Loading Dock Separation Accidents
Dangerous loading dock separation accidents can occur in many different ways.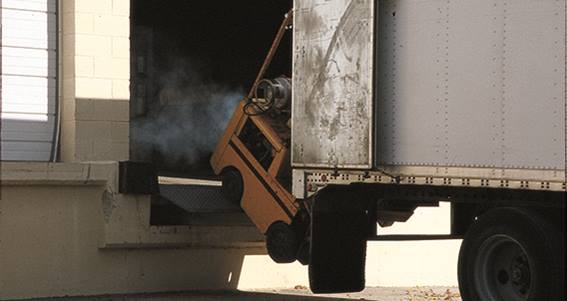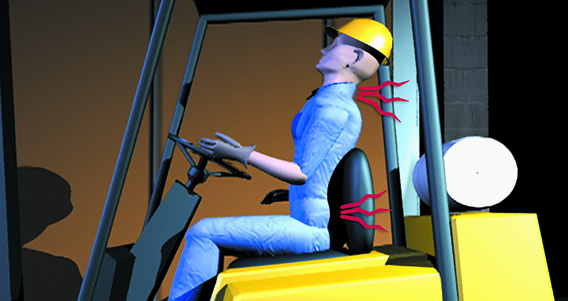 FACTS: Every year, 94,750 forklift related injuries are reported. 7% of forklift accidents occur when a lift truck is driven off a loading dock. 70% of all reported accidents could have been avoided with proper safety precautions (nist.gov, "Towards Improved Forklift Safety Whitepaper").
General industry regulations relative to truck loading docks are largely embedded in requirements for Powered Industrial Trucks, as outlined by OSHA:
(1910.178). Specific requirements aimed at preventing trailer/dock separation incidents appear below.
1910.178(k)(1): The brakes of highway trucks shall be set and wheel chocks placed under the rear wheels to prevent the trucks from rolling while they are boarded with powered industrial trucks.
1910.178(m)(7): Brakes shall be set and wheel blocks shall be in place to prevent movement of trucks, trailers, or railroad cars while loading or unloading.
OSHA has issued directives and interpretations that allow alternatives to chocking to prevent trailer/dock separation:
". . . in light of the changes in technology since the promulgation of 29 CFR 1910.178(k)(1) and (m)(7), OSHA as a matter of policy will regard failure to use wheel chocks or blocks as a misdemeanor violation and no citation will be issued if alternative methods of preventing truck movement are used. These alternatives may include the use of dock lock mechanisms, dock monitoring systems, or other systems which will prevent the unintentional movement of trucks and trailers while being boarded with powered industrial trucks."
| | |
| --- | --- |
| Trailer Creep, also known as dock walk, is the repeated impact from lift trucks going in and out, that causes the trailer to edge ("creep") away from the dock. Wheel chocks don't do the job because they slip, get misplaced, can be pushed or pulled out of the way, and require a human to put them in place. | Early Departure or aggressive pullout is when a truck driver mistakenly drives away while a lift truck is entering, leaving or still inside the trailer. |
| | |
| | |
| --- | --- |
| Trailer Pop-Up or Trailer Up-Ending can happen as loading or unloading takes place and the weight of the product and the forklift cause the trailer to shift at the end or nose. | Landing Gear Collapse, known as trailer tip over, occurs when the leg of the landing gear of a spotted trailer collapses. If the leg rolls inward or outward, it causes the trailer to tip sideways. Utilizing a rotating hook vehicle restraint to hold the trailer can keep it from toppling over into the trailer spotted at the dock position next to it. |
| | |
The Rite Solution
.
Dok-Lok vehicle restraints
address accidents caused by trailer separation. Every Rite-Hite vehicle restraint is designed to secure a semi-trailer to a loading dock by engaging the trailer's rear impact guard (RIG). Rite-Hite representatives are trained to assess every situation and application and can recommend the restraint that best meets the needs. We also have a complete visual communication system to help put safety in the hands of forklift operators and truck drivers. Combining a Dok-Lok vehicle restraint and the
Rite-Vu communication system
means productivity gains and improved safety.
improving industrial safety, security and productivity worldwide THROUGH QUALITY AND INNOVATION

WANT MORE INFORMATION?
Fill out the form below and one of our reps will reach out to you.
Thank you for filling in the form.
Someone from our team will be in touch with you shortly.