Hydraulic Conversion
Improved ergonomics for aging workforce
Reduced equipment downtime and maintenance needs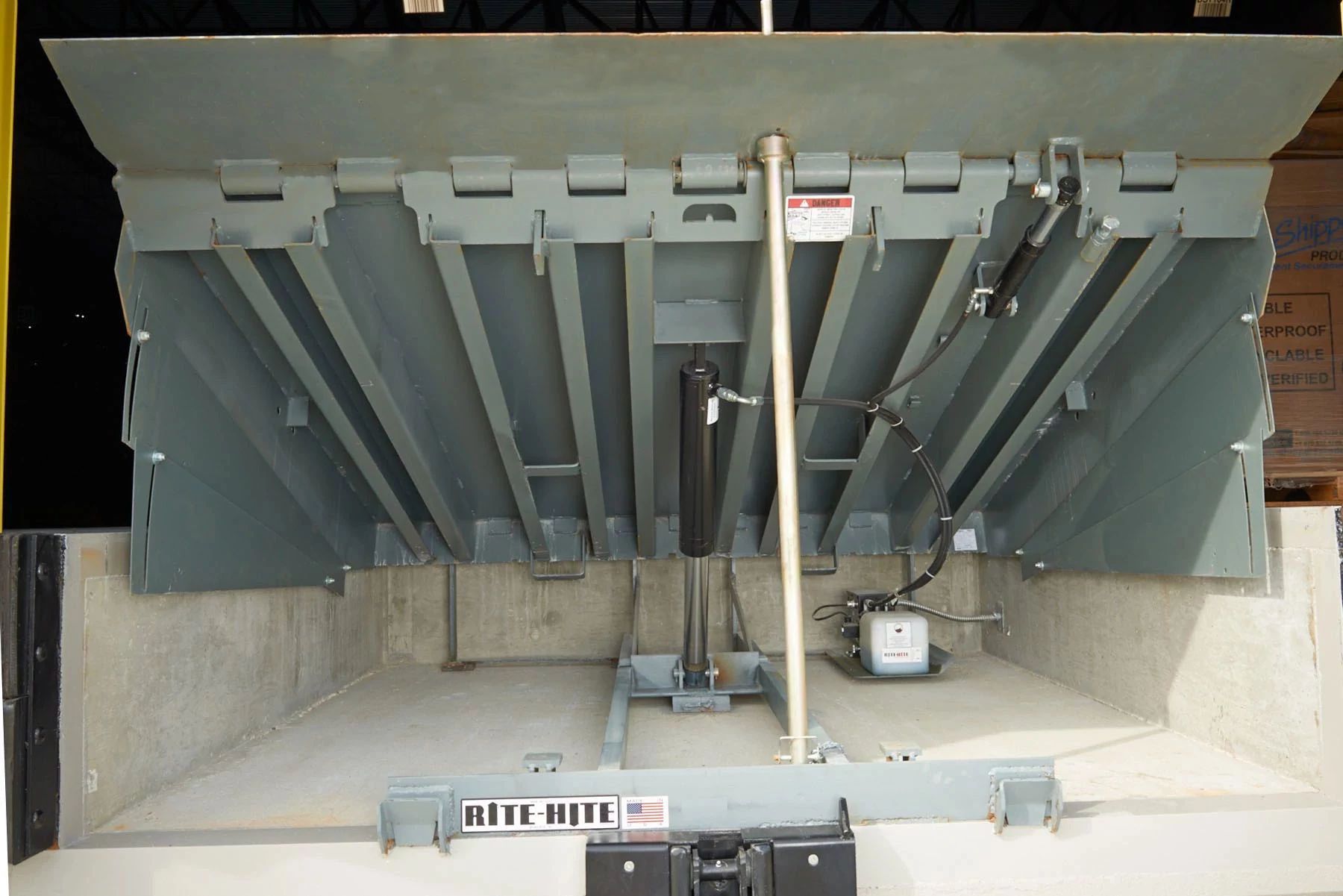 A hydraulic conversion kit upgrades mechanical and air powered levelers to hydraulic operation with simple push button control. A hydraulic system has fewer moving parts, allowing for more ergonomic operation and reduced equipment downtime.
Mechanical to Hydraulic Operation
The hydraulic conversion kit replaces manual chain pulling and complicated "walk-down mechanisms" of a mechanical leveler with more ergonomic push-button operation. The main hydraulic cylinder replaces hold-down devices, and the hydraulic lip cylinder replaces Hydracheks®, both powered by a hydraulic power unit and push-button control to operate the leveler and lip.
Air Powered to Hydraulic Operation
The hydraulic conversion kit replaces worn air bags on an air powered leveler with a central hydraulic cylinder and mechanical lips with a hydraulic lip cylinder. Both are powered by a hydraulic power unit and push-button control to operate the leveler and lip.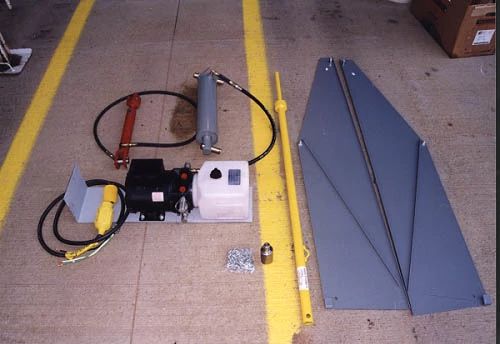 Fully Equipped System
Rite-Hite hydraulic conversion kits come fully equipped with a Safe-T-Strut™ and heavy-duty toe guards to help protect personnel and equipment. The kit also offers electrical components and the ability to upgrade leveler controls with interlocking capabilities for safer sequence of operations and improved operating efficiency.
Benefits
Helps prevent catastrophic events and damage to the leveler with a non-adjustable velocity safety fuse that helps stop rapid leveler descent in the case of an early trailer departure by only falling 3" below dock at a time; providing ultimate free-fall protection.
Full-range free float technology allows the leveler platform to adjust to changing trailer bed heights, which helps to protect the equipment and eliminate the jarring effects of stump-out caused by mechanical end-load legs locking into place.
Hydraulic leveler single push button operation helps decrease ergonomic stress on personnel and increases the overall ease of use by eliminating the need to bend over to pull a chain and the potential need for jumping to "walk" the leveler down.
Helps protect personnel and equipment by eliminating the risk of hold-down failure from damaged ramp control teeth or worn brake systems on mechanical levelers that could lead to an unsafe situation called leveler pop-up.
Replaces competitive leveler maintenance props with the central through-the-lip design of Safe-T-Strut.
For most Rite-Hite and competitive mechanical and air levelers, full-range toe guards and Safe-T-Strut are optional with the conversion kit for personnel safety.
Helps reduce equipment downtime with fewer moving parts for less required maintenance needs.
Heavy-duty hydraulic ramp lifting cylinder positioned at the front center underneath the leveler to provide maximum ramp support in the situation of an early trailer departure and minimal effort required to lift the ramp.
Lower maintenance costs over the lifetime of hydraulic leveler vs. mechanical or air powered.
Cost savings without having to completely replace existing loading dock leveler.


Universally accepted on most competitive and Rite-Hite levelers to replace failed hydraulic motors and pumps as well as worn-out mechanical and air components.
Rite-Hite provides an exclusive network of representatives and industry-leading planned maintenance programs; helping ensure products are performing at their full potential.
One-year parts and labor warranty.


Gallery
Hydraulic Conversion_Fully Equipped Kit, Hydraulic Conversion_Fully Equipped Kit
Hydraulic Conversion Kit Close Up, Hydraulic Conversion Close Up Straight Angle
Hydraulic Conversion kit and pump assembly, Hydraulic Conversion Push Button Control Box, Hydraulic conversion weld plate close-up, Hydraulic conversion and weld plate, Hydraulic conversion top weld plate
Need more info?
Fill out the form below and one of our reps will reach out to you.
improving industrial safety, security and productivity worldwide THROUGH QUALITY AND INNOVATION

WANT MORE INFORMATION?
Fill out the form below and one of our reps will reach out to you.
Thank you for filling in the form.
Someone from our team will be in touch with you shortly.