Pedestrian Safety in the Industrial Facility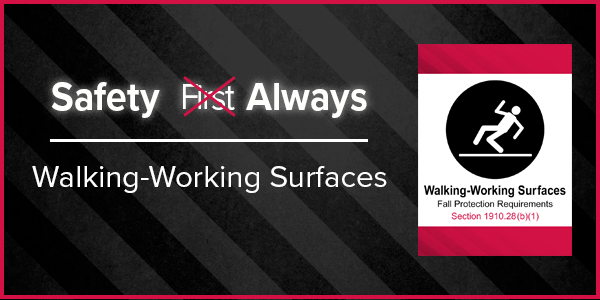 Ensuring Pedestrian Safety within Industrial Facilities
Your plant can be a dangerous place. A traditional yellow line painted on the floor offers little to no protection for pedestrians against material handling equipment. Whether dealing with a highly automated conveyor system or routine access points, the workplace demands comprehensive protection. Coordination among the safety, training, and plant layout departments is essential. Effectively separating and defining work zones and walkways, as well as providing drop-off protection for elevated platforms, interior loading and rail docks remains an ongoing challenge in industrial settings. Conducting a pedestrian safety assessment is your first step to identify and prioritize potential hazards.
The Cost of Inadequate Protection
Considering work injuries cost $167 billion in 2020 (National Safety Council), surpassing the combined profits of the top 20 Fortune 500 companies, the importance of adding safety barriers in your facility is evident.
OSHA 1910.28 requires fall protection on a walking-working surface that is 4 feet or more above a lower level. Guardrails systems satisfy this requirement. Rite-Hite's industrial pedestrian barriers and mezzanine safety gates will help you comply with OSHA's fall protection requirements and help keep your people safe everywhere in your facility from top to bottom and corner to corner.
In accordance with OSHA regulations, it is also a requirement that permanent aisles and passageways remain clear of obstacles and are appropriately marked when mechanical handling equipment is utilized. This directive is detailed 29 CFR 1910.176(a)*
The Rite Solution
In any area where the goal is to separate people and equipment, a physical barrier protection system is essential. Rite-Hite designs safety barriers with a single focus: Safeguarding your workforce and equipment across all environments.
Available in heavy duty, light duty and XL models, the Dok-Guardian Safety Barrier line is a highly visible barrier used to separate and define work areas or provide drop-off protection. The easy-to-operate barrier can retract to provide full time access when needed or expand to provide effective protection from serious accidents.
Available in five models to accommodate specific light duty and heavy-duty applications, GuardRite Polymer Safety Barriers provide a lightweight, cost-effective alternative to traditional barriers. When impacted, the fixed safety barrier absorbs the collision and returns to its original shape without scratches or dents, helping save on repair and maintenance costs and downtime associated with impacts.
Blind corners are danger zones. Help protect blind corners and busy intersections shared by pedestrians and material handling equipment with the ceiling-mounted Safe-T-Signal Intersection Warning System or the rack-mounted Safe-T-Vu Warning System. The motion-activated systems operate as stop lights at aisle ends or other high-risk intersections to alert workers through highly visible LED lights when traffic is approaching from other directions using unidirectional sensors to help prevent accidents.
Rite-Hite has a full line of safety barriers that are impact-tested to help you select the right barrier for your specific needs. Your local Rite-Hite representative is expertly trained to review the layout of your facility and recommend the most appropriate solution to help protect personnel, products and equipment.
*In the U.S.
improving industrial safety, security and productivity worldwide THROUGH QUALITY AND INNOVATION

WANT MORE INFORMATION?
Fill out the form below and one of our reps will reach out to you.
Thank you for filling in the form.
Someone from our team will be in touch with you shortly.