Fly-In Program
A one-of-a-kind, custom-designed experience!
Designing a new dock? Building or expanding a facility? Upgrading existing space? Considering automation at the loading dock? Looking for ways to reduce energy costs, keep employees safe, and improve security? Wondering about the latest industrial trends? Want to discuss current issues? Need to understand safety standards and regulations?
All great questions that Rite-Hite and our representatives are prepared to help you with. We'll create a personalized curriculum that addresses all of your questions and meets your specific needs at the loading dock and inside your facility. After all, you don't want to get this wrong and live with decisions that fall short.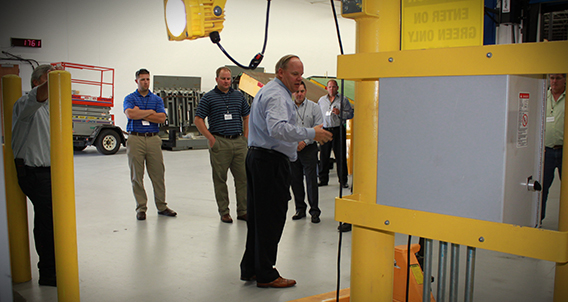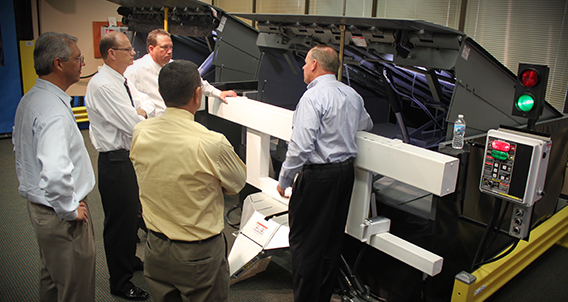 The Rite-Hite Fly-In program is customized to each group. Tour our showrooms filled with Rite-Hite products. See first-hand product demonstrations. Compare Rite-Hite equipment and products head-to-head against those from other manufacturers. Examine everything, put it through their paces, and discover the benefits that set our safety and material handling equipment apart from others in the industry.
Rite-Hite experts along with your local representative can help you make informed decisions for your facility so you can be assured your industrial equipment will provide the safety, security, and productivity you need for many years to come. Taking part in a Rite-Hite Fly-In is a great opportunity to identify the specific solutions you are in search of while building a great partnership with an innovative, customer-focused company – Rite-Hite.
THE PROGRAM
A Fly-In is a one or two day program depending on your customized curriculum. We believe it is an important step in your decision making process. So important, that everything from the time you take off to the time you leave is on Rite-Hite. In addition, we'll schedule a little time to enjoy some of the best activities that our city has to offer.
For more information and to begin customizing your program, contact your Rite-Hite representative today.
improving industrial safety, security and productivity worldwide THROUGH QUALITY AND INNOVATION

WANT MORE INFORMATION?
Fill out the form below and one of our reps will reach out to you.
Thank you for filling in the form.
Someone from our team will be in touch with you shortly.