RHV-4100 Vertical Storing
Ideal for environmental control
Smooth Transition Dok System®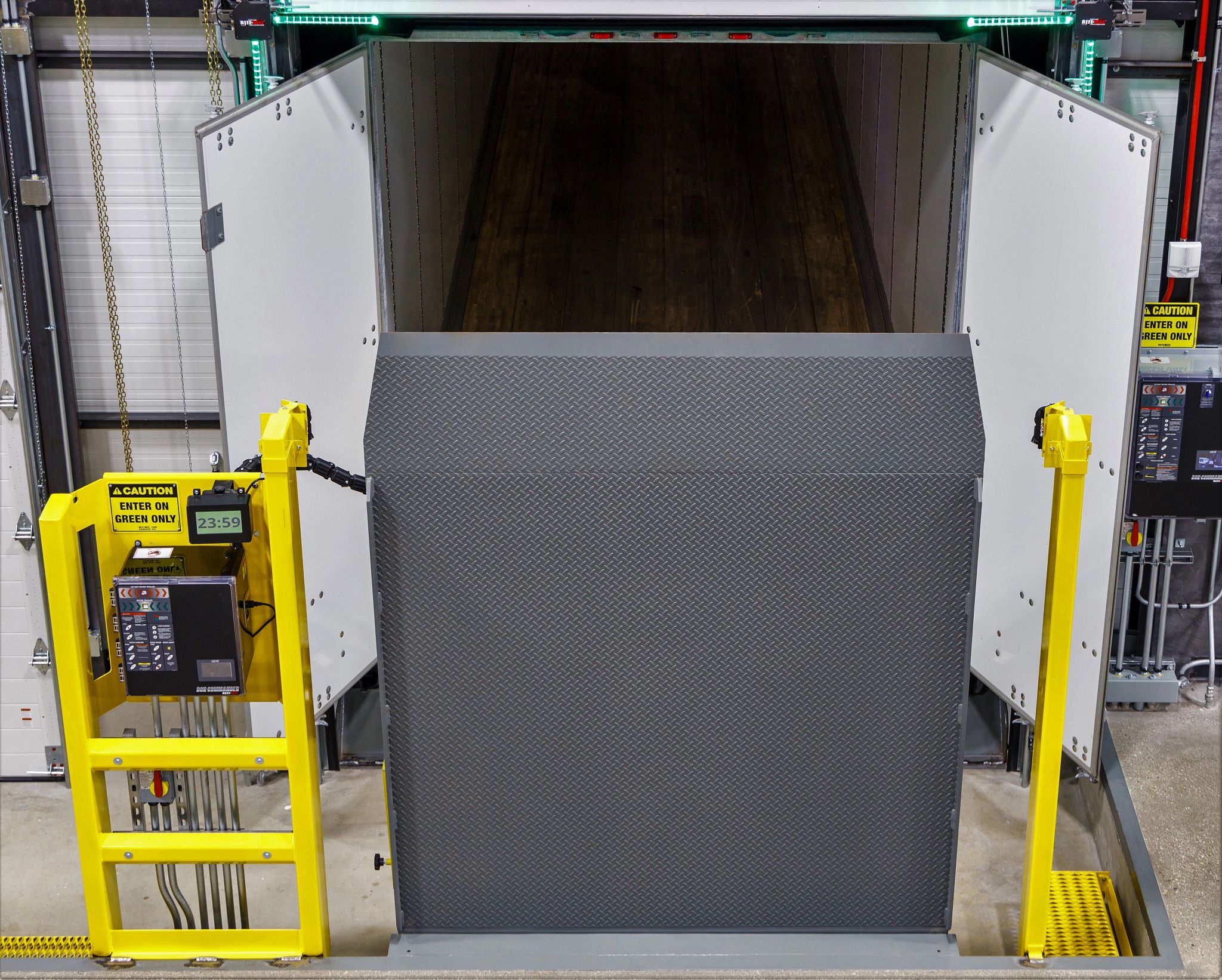 Rite-Hite's RHV-4100 Vertical Storing Hydraulic Dock Leveler offers superior environmental and security control with the smoothest transition between the warehouse floor and the trailer bed.
Environmental Control
Rite-Hite Vertical Storing Leveler, paired with PitMaster™ V under-leveler seal and dock seal/shelter, provide a complete 4-sided seal; helping prevent contamination of your facility from dirt, debris, pests, and environmental factors.
Learn More
Drive-Thru Approach
OSHA has identified semi-tractor trailers as the second leading cause of back over fatalities in the United States. Loading docks equipped for a drive-thru approach allow trailer doors to open inside the facility; helping prevent fatalities by keeping boots off the ground. This also helps increase supply chain integrity and security, as the seals are also broken and reapplied inside the building.
MAXIMIZE THE INTEGRITY OF YOUR SUPPLY CHAIN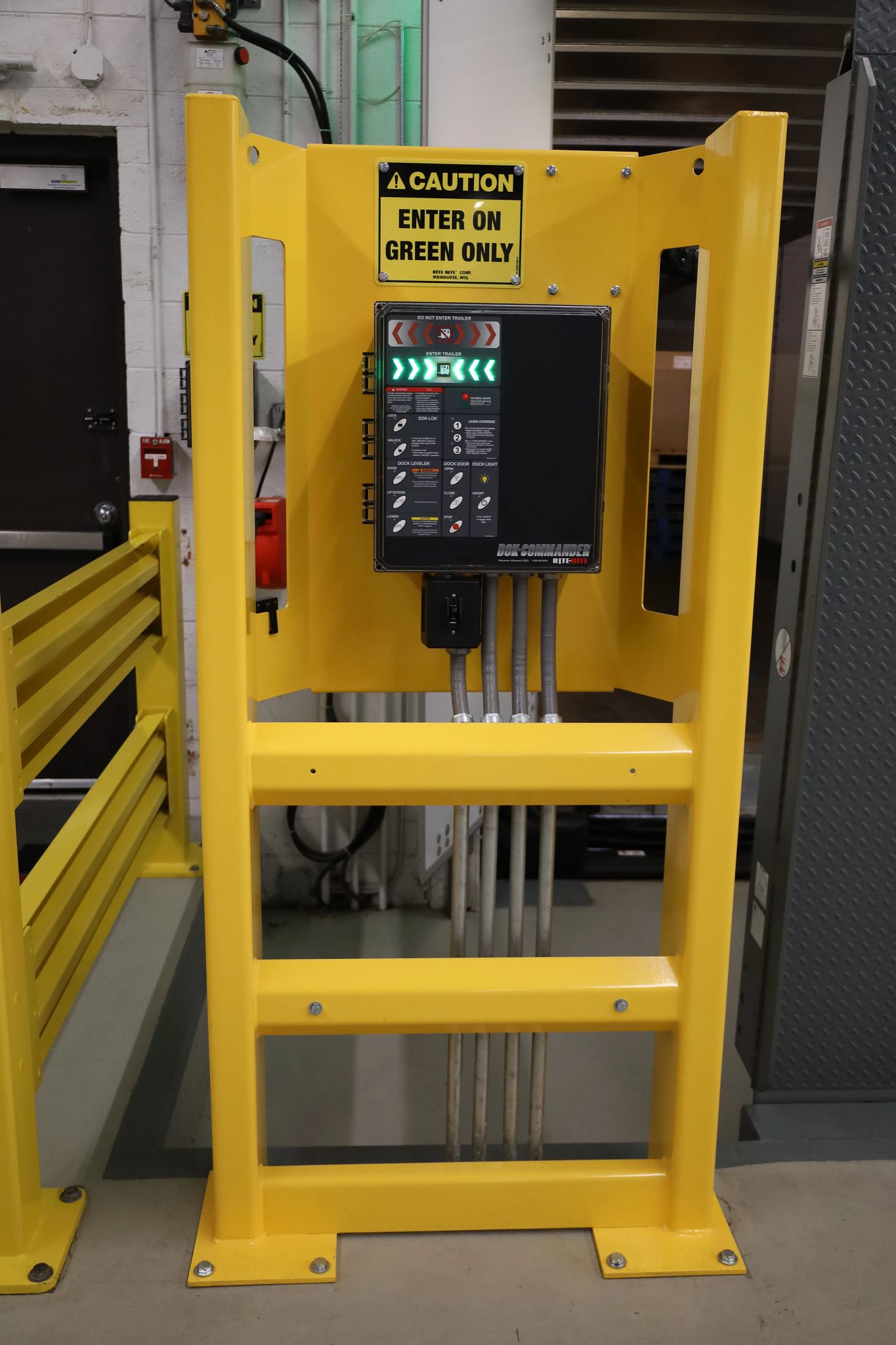 RHV Mast: Combination Controls
Simple centralized panel integrates the controls of multiple pieces of operating equipment: including a Dok-Lok® vehicle restraint, dock leveler, dock door, dock light and Rite-Vu™ Hazard Recognition and Communication System. The location alongside the vertical dock leveler helps remove wall clutter, keeps the operator safely at the control panel for all equipment operation, and is programmable to provide safe, sequential operation.
Learn More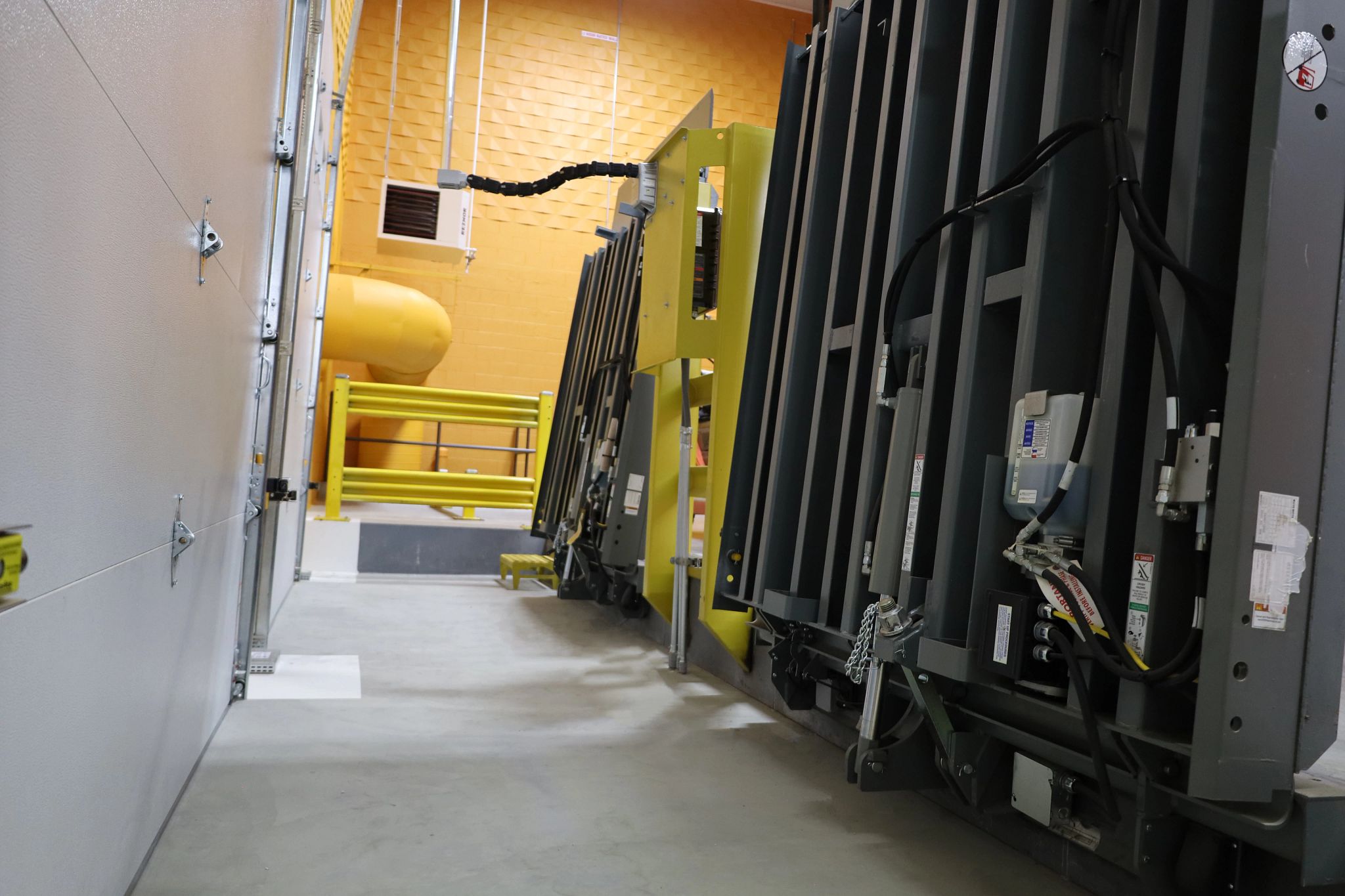 Safe-T-Pit: Pedestrian Safety
Safety is Rite-Hite's number one priority. One area that may be overlooked is the pit of vertical storing levelers. Vertical Storing Levelers come with optional Safe-T-Pit®, which keeps the operator at the control panel until the leveler is securely positioned in the trailer bed. If sensors detect any movement in the leveler pit, operation will be disabled until the area has been cleared, adding an additional layer of pedestrian safety.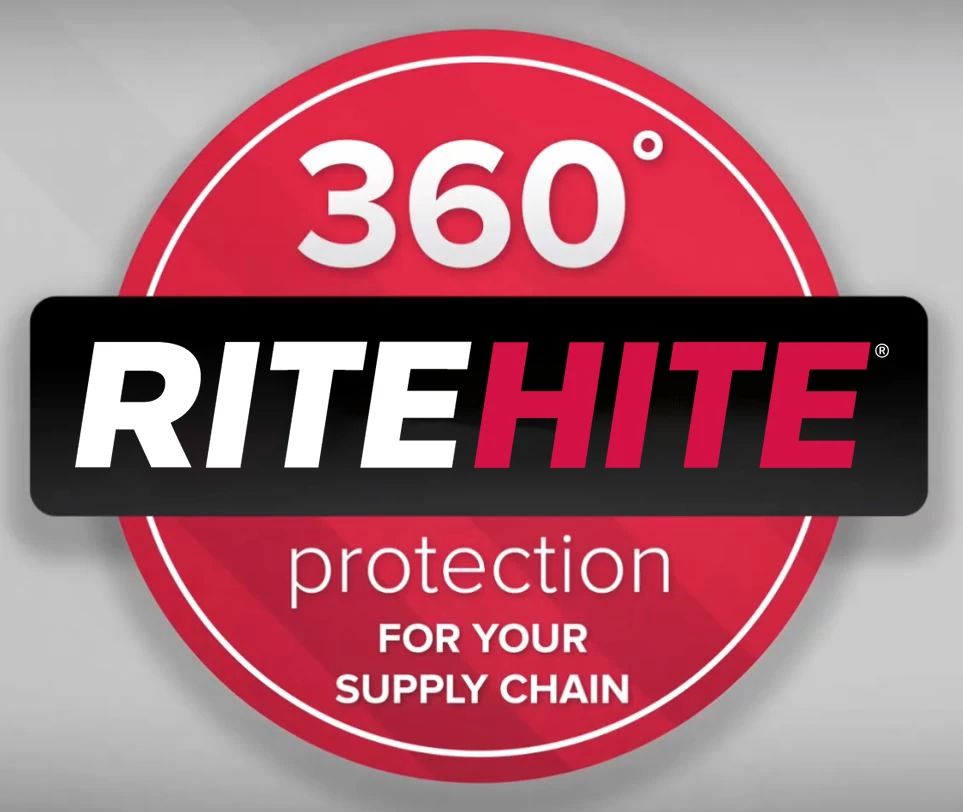 Protect Your Supply Chain
Green light from the light communication system, signals to driver when it is safe to backup
Approach-Vu

™

alerts personnel, on the drive approach, that a trailer is backing up
Trailer doors remain closed until truck in is in position
PitMaster™ V under-leveler seal and Eclipse® Dock Shelter give a complete 4-sided seal
Trailer is secured with a Dok-Lok® Vehicle Restraint
Lok-Vu® visually communicates that the restraint is engaged with the trailer
Vertical Storing Dock Leveler is lowered to transfer materials
Opti-Vu IIoT Platform
Improves productivity, proactively increases safety, controls energy consumption and enhances asset management with the interactive tool that allows you to make data-informed decisions for your facility.
Learn More
Benefits
Rite-Hite's drive-thru design is constructed to help maintain cold chain integrity, environmental control, safety and security; ideal for food or cold storage.
Vertical Storing leveler allow trailer doors to open inside the loading dock instead of on the drive approach. This helps reduce dust, debris and rodents from entering the facility and eliminates the energy loss from a pit style leveler when stored.
It also means security seals are always removed and placed from inside the facility, improving cold chain integrity and enhancing the security of products and processes.
Overhead doors close all the way to the pit floor to maximum environmental control. Option to pair with a VHLS under-leveler or PitMaster™ V seal system, the loading dock will have complete 4-sided contaminant protection; blocking white light.
The importance of safety at the loading dock cannot be understated. From the loading / unloading process to planned maintenance, there are many places to prioritize for safety.
Safe-T-Pit® utilizes sensors that disable leveler operation when movement is detected in the pit for an additional layer of pedestrian safety. The Interlocked Controls will not allow leveler operation to resume until the pit is cleared and the operator is safely at the control panel.
Self-Flexing Deck utilizes L-beam stringers to increase deck strength and allow the leveler deck to flex up to 4" under its own weight. This structural design means the leveler maintains constant contact with the trailer bed at all time; even after the weight of the forklift has been removed from the deck.
Over-center tilt-back storage of the leveler reduces pressure on the hydraulic system to help prolong equipment life.
Non-Adjustable Velocity Fuse helps stop rapid leveler descent within 3" (76 mm) with a heavy load on the platform; providing ultimate free-fall protection.
Help cut down facility costs by increasing productivity through boots off the drive approach, effortless constant-contact controls, and high performance, biodegradable fluid.
Boots off the Ground means personnel spend less time going in and out of the facility, onto the drive approach. In a drive-thru application, employees stay safely inside the building and focus their time on the loading and unloading process.
Constant-contact controls allow the operator to extend lip or stop platform and lip at any time during leveler travel – keeping the operator safely at the control panel at all times.
Biodegradable Fluid is environmentally friendly and outperforms traditional industrial-grade fluid.
Maintenance Pendant Receptacle (optional) helps minimize danger and reduce waste while promoting productivity when maintaining hydraulic dock levelers. The receptacle helps with labor shortages by only requiring one technician instead of two during maintenance.
Certified to exceed ANSI MH30.1 performance testing standards.
Forklift operators cross from facility floor to trailer bed more than 100,000 times each year. To ensure your workers are protected from chronic injuries, developed by Whole Body Vibration (AKA Dock Shock) through jarring bumps and gaps, it is important to have a proper Smooth Transition Dok System® in place.
Two-Point Crown Control reinforces the front hinge (between the leveler deck and lip) in two places to help remove the "speed bump" felt with traditional leveler that have increased crown reinforcement.
Constant Radius Rear Hinge gives a consistent 1/3" space between the warehouse floor and leveler deck; significantly reducing the gap that causes the jarring pain felt when crossing.
Extended Lip Chamfer comes standard with an extended length of 3" (compared with traditional leveler's 1/3") that provides a more gradual transition from lip to trailer bed floor; helping to diminish bodily impact.
Beam Construction includes two extra L-beams under the leveler deck which provide increased strength and superior flexibility, allowing the leveler to flex up to 4" under its own weight.
Up to 20-Year Money Back Warranty Based on the Dock Leveler Investment Guide
5-Year Parts and 1-Year Labor
12-Month Limited Money-Back Guarantee of Customer Satisfaction
Gallery
RHV-4100: Single Leveler & Combination Controls Mast
RHV-4100: Safe-T-Pit Sensors & Easy Clean Stair
RHV-4100: Complete 4-Sided Seal
RHV4100 Vertical Storing Leveler for Drive-Thru Application
Multiple Vertical Storing Leveler - Continuous Pit
Drive Thru Supply Chain Integrity_Seal Broken Inside Facility
RHV 4100 Drive-Thru_Doors Open Inside Facility
Need more info?
Fill out the form below and one of our reps will reach out to you.
improving industrial safety, security and productivity worldwide THROUGH QUALITY AND INNOVATION

WANT MORE INFORMATION?
Fill out the form below and one of our reps will reach out to you.
Thank you for filling in the form.
Someone from our team will be in touch with you shortly.