Getting a good fit around all sides of the trailers that come to a loading dock can be a big challenge – but Rite-Hite has a solution! In a single piece of equipment, the Eclipse Dock Shelter provides a tight, consistent seal all the way up trailer sides, across the top, and at the corners.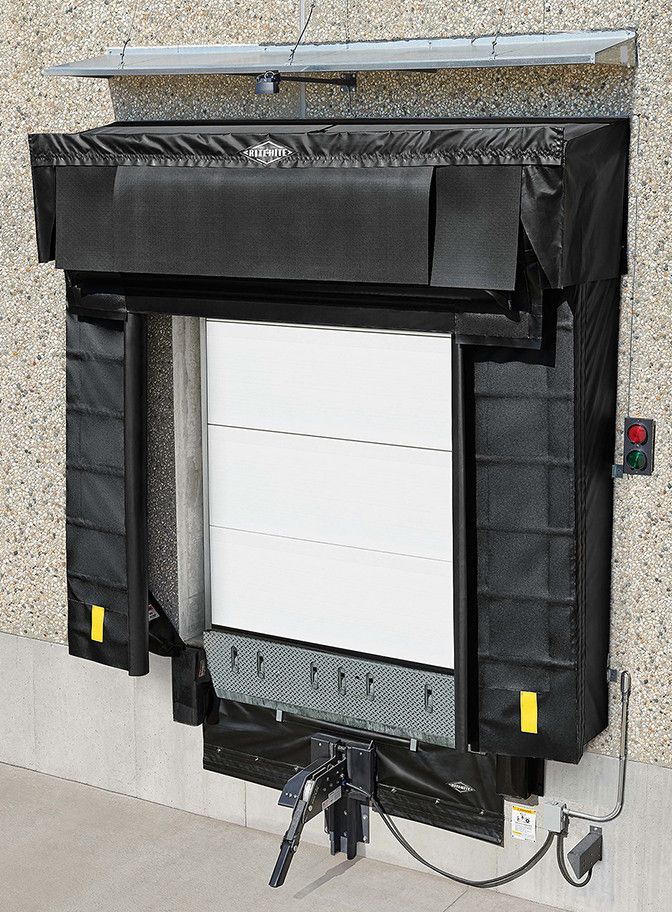 Working together, the Eclipse shelter and PitMaster under-leveler sealing system provide an advanced, highly effective seal at the loading dock.
Benefits
Durable GapMaster™ hooks wrap around swing-open trailer doors, sealing hinge gaps that amount to over two and a half square feet of open air if left unsealed.
Along the top of the trailer, an exclusive weighted head curtain applies over 100 pounds of pressure across the full width of the trailer top. This gravity-based system keeps the curtain in constant contact with the trailer during loading and unloading, ensuring a tight, consistent seal.
The Eclipse side curtains and weighted header work together to seal gaps that ordinary shelters don't address. Innovative fabric corner pockets connect sides to top, providing a dark, complete seal when trailers back into place.
Below and around the dock leveler, the available PitMaster™ under-leveler sealing system provides a barrier against environmental infiltration on the exterior of the dock. Meanwhile, lip corner seals, filler pads and other components block gaps on the inside of the dock.
Impactable foam side frames reinforced with a high molecular weight polyethylene (HMWPE) layer to protect foam from damage from trailer impact.
15" (381mm) trailer coverage range seals tall and short trailers with no pull-ropes or manual adjustment required.
Option to increase to 21" trailer coverage range (533mm). Durable front wear panels protect header and seal.
Removable sealing hooks. Hooks come sleeved in conforming vinyl fabric wrap for better seal. Hooks are removable and easy to replace.
Compact 11'2" (3404mm) footprint on wall, even at large projections.
Fits into tight spaces; saves cost of moving lights, signs, etc. Durathon™ high-strength, friction-resistant side curtains resist damage and wear.
Gallery
Shelters View at the Dock
Eclipse 2019 Retouched Photos July 2019
Need more info?
Fill out the form below and one of our reps will reach out to you.
improving industrial safety, security and productivity worldwide THROUGH QUALITY AND INNOVATION

WANT MORE INFORMATION?
Fill out the form below and one of our reps will reach out to you.
Thank you for filling in the form.
Someone from our team will be in touch with you shortly.