Dock Curtains
Effective environmental control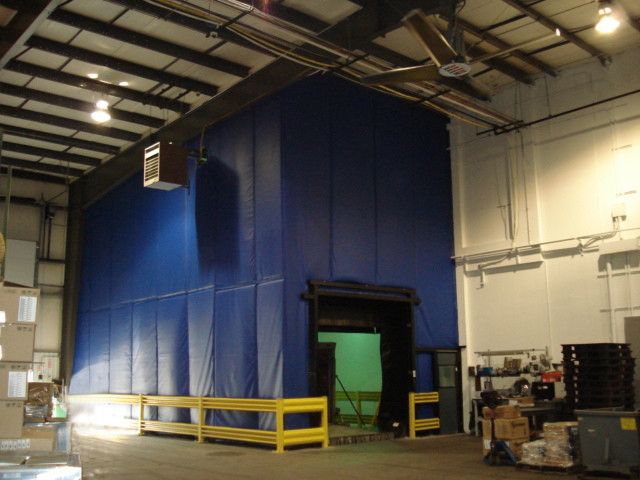 Industrial Curtain Walls for Loading Docks
Whether you have conventional interior or exterior loading dock areas or an outside open-air dock, Zoneworks® Loading Dock Enclosures can help you save energy, protect product, and improve employee comfort and safety.
TZ Insulated Curtain Walls
HOW LOADING DOCK ENCLOSURE CURTAIN WALLS WORK
TZ insulated curtain walls can close off open docks on the exterior of the building, interior docks with grade-level openings, or other drafty areas of the building.
Zoneworks loading dock enclosures consist of TZ insulated wall panels constructed of layers of industrial vinyl fabric wrapped around antimicrobial polyester batting. Custom engineering ensures proper fit around corners and obstructions. Wind retention and structural framing methods are included in project design. SCH heavy-duty fabric curtains close off openings for trailer access when trailers are not present or not in use. Galvanized vertical control staffs with drop pins and floor sockets add stability in windy conditions.
Maintain consistent facility temperatures and humidity levels for increased energy efficiency
Keep environmental elements outside and a safe, comfortable environment for employees inside
Reduce heating and cooling costs around loading dock zones
Protect your product from weather-related damage
INDUSTRIES SERVED
TZ Insulated Curtain Walls benefit any industrial facility with existing open dock areas wanting to control temperature or humidity levels.
It's essential to take the time and look at your facility to see if you have any areas where treated air meets non-treated air, and decide if an insulated curtain wall might be a solution to keep these environments separate. Industrial curtain walls can close off these open areas and extend the range of your treated air space.
FREQUENTLY ASKED QUESTIONS
Do curtain walls attach to the floor?
They do not, and we do not recommend it unless there is a heavy negative or positive pressure situation. Our sweeps at the bottom of the panels seal against the floor and match any voids or elevation changes in the floor slab. In the event the curtain needs to be anchored to the floor, steel angles can be positioned on the floor and the curtain secured to the steel angle.
What colors choices are available for dock enclosures?
There are 5 standard colors available for the flame retardant vinyl: Blue, White, Green, Gray, and Tan. There are 3 additional colors available (Yellow, Red, and Black), but these are subject to roll minimums and additional lead times. Custom colors are available if the PIM# is provided and a minimum yardage is purchased at additional cost.
What is the process for ordering a loading dock curtain wall?
Start by contacting your local Rite-Hite Representative. Our trained rep will come to your facility and perform a site survey, recommending the best product for you. After ordering, your wall will be custom designed for your needs and space. Rite-Hite can professionally install it, or you can do it yourself with directions provided during a free consultation. Your satisfaction is guaranteed throughout this entire process.
Need more info?
Fill out the form below and one of our reps will reach out to you.
improving industrial safety, security and productivity worldwide THROUGH QUALITY AND INNOVATION

WANT MORE INFORMATION?
Fill out the form below and one of our reps will reach out to you.
Thank you for filling in the form.
Someone from our team will be in touch with you shortly.