FA-1600 Fully Automatic Mechanical
Ideal for existing FA operations
The Rite-Hite fully automatic mechanical, truck activated dock leveler can be operated without a dock attendant. It has the fewest moving parts and lower maintenance needs of any mechanical dock leveler, which helps to increase efficiency through lower staffing needs, lower upkeep costs and extend product life.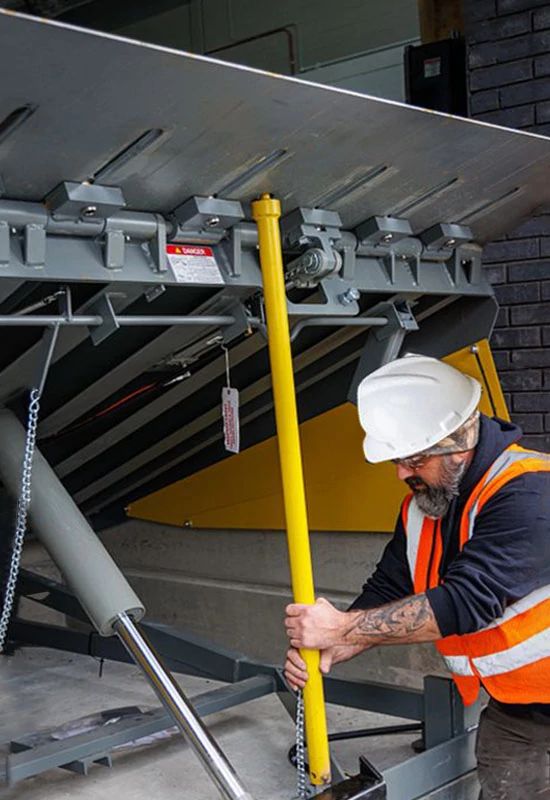 Safe-T-Strut
Rite-Hite's Safe-T-Strut™ system offers a central through-the lip-design that solidly supports both the leveler and lip through the entire operating range, helping to prevent dock leveler collapse during maintenance and helping to protect personnel underneath. It is certified to withstand forklift impacts up to 4 mph and helps to comply with OSHA lockout/tagout regulations.
Learn More
Benefits
Rite-Hite FA Mechanical Automatic Dock Levelers help to increase efficiency for facilities that require a dock position to handle occasional higher capacity loads with a lower staffed application.
Truck Activation allows for leveler placement without a dock attendant present. When the truck backs into position, the interaction with the leveler bumpers pushes them backward. The leveler platform raises with this movement and places the fixed lip into the bed of the trailer.
Minimal Maintenance is required due to fewer moving parts; lowest of any Rite-Hite mechanical Leveler.
No Electrical Power is needed to operate the FA Mechanical Automated leveler.
Existing FA Customers benefit from this leveler in a high load capacity dock position with lower traffic.
The FA Mechanical Automatic Dock Leveler is manufactured to weather the toughest facility conditions while keeping the safety and security of employees, equipment, and cargo its number one priority.
Rugged Construction design is crafted with a one-piece platform built to withstand extremely heavy loads and impact by trucks in everyday use.
Automatic Safety Stop helps ensure personnel safety during the loading and unloading process by helping prevent platform free fall.
FA Mechanical Safe-T-Strut (optional) is available through the Universal Safe-T-Strut™ Kit. The strut helps to enhance safety during maintenance.
Bumper Stops (optional) helps protect the overhead door from damage by limiting the travel of the bumpers when the overhead door is in the down position, if a truck should back into the bumper frame.
Rite-Hite Fully Automatic Mechanical Dock Levelers are backed by the company's industry leading warranties.
12-Month Limited Money-Back Guarantee of Customer Satisfaction.
Up to 20-Year Money Back Warranty Based on the Dock Leveler Investment Guide.
5-Year Parts & Labor.
Need more info?
Fill out the form below and one of our reps will reach out to you.
improving industrial safety, security and productivity worldwide THROUGH QUALITY AND INNOVATION

WANT MORE INFORMATION?
Fill out the form below and one of our reps will reach out to you.
Thank you for filling in the form.
Someone from our team will be in touch with you shortly.