Revolution 75 & 150 Series
8'-24' diameter (2440 mm-7320 mm)
Same Cooling Power Without Noise or Oil
Our Revolution® 75 & 150 Series is a new spin on our classic Revolution HVLS design, but without a geared motor or gearbox area – this is our engineering response to the request for simplicity and performance.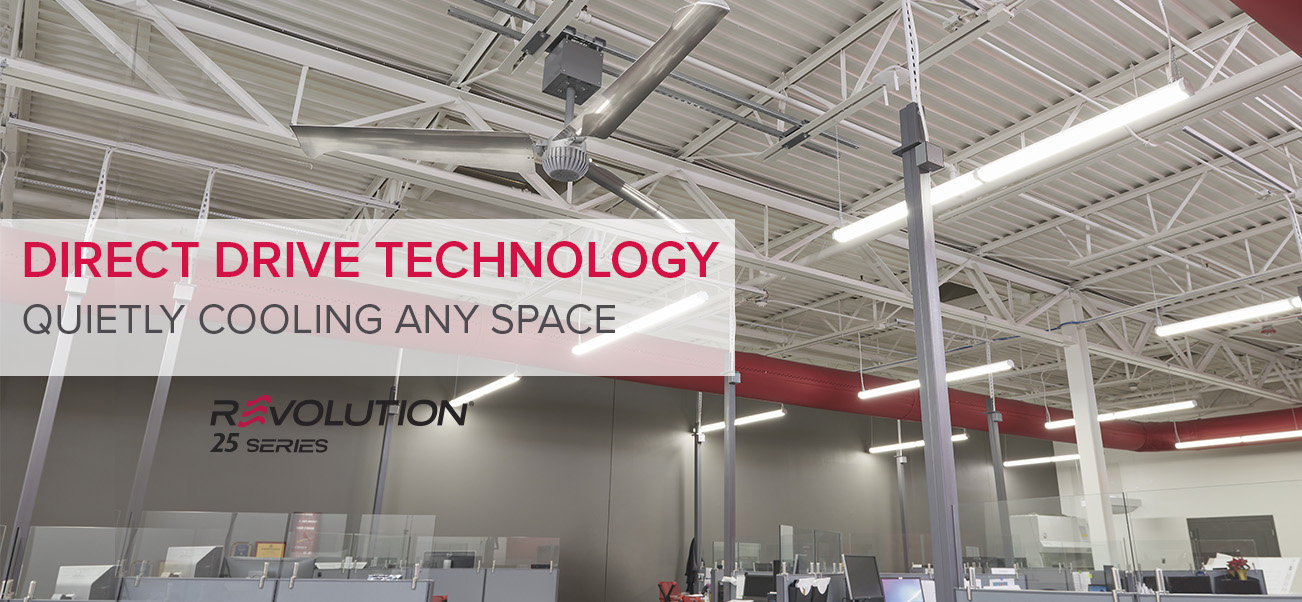 Simplified Design Reduces Installation Costs
This industrial fan was designed with installation simplicity in mind – which means you'll save time and money. Fans are pre-wired and factory configured for each application and cooling begins almost immediately with standard wireless controls.
Benefits
Direct drive motor replaced the need for a gearbox. Say good-bye to noise and oil.
Exclusive aluminum mill finish blades incorporate tilt, taper, and twist to produce consistent airflow across the entire length of the blade, eliminating pockets of stagnant air under the center of the fan
Revolution 75 is available in 8' (2440 mm), 12' (3660 mm), 16' (4880 mm), 20' (6100 mm) and 24' (7320 mm) diameters.
Revolution 150 is available in 16' (4880 mm), 20' (6100 mm) and 24' (7320 mm) diameters.
Covers 31,000 sq. ft., moving air up to 100 ft. in all directions from the center of the fan.
IP 40 Rated
The blade and hub are rotationally balanced for smooth, efficient performance
Maximum weight is 185 lbs. Actual weight varies according to the fan size and mounting style
Backed by Rite-Hite's 50-year track record as an industrial manufacturer
Direct drive HVLS fans can be seen in a wide range of facilities across a variety of industries:
Health Clubs
Restaurants
Retail
Schools/Universities
Offices
Food Manufacturing Facilities
Pharmaceutical Processing Centers
Hundreds of Other Applications
Touch screen WiFi controls are customizable to a 7-day schedule with the ability to automatically adjust fan speed based on temperature (optional sensor required).
Standard Ethernet connectivity allows remote access to controls and can also integrate with a building management system.
All fans feature a hub to motor connection with integrated safety cable and mounting bracket
Blades are attached to the hub in two specific ways; : the blade is seated into a secure position on the hub arm and then locked in with a bolt that is tightened with a torque wrench to 75 foot-pounds.
The blade to hub connections is strengthened by a vibration-absorbing bushing to help reduce the stress by 50 to 75%.
3 year parts & 3 year labor warranty
10 year structural integrity warranty
Lifetime warranty on workmanship of blades and interlocking fan arms
12 month limited money-back guarantee
Need more info?
Fill out the form below and one of our reps will reach out to you.
improving industrial safety, security and productivity worldwide THROUGH QUALITY AND INNOVATION

WANT MORE INFORMATION?
Fill out the form below and one of our reps will reach out to you.
Thank you for filling in the form.
Someone from our team will be in touch with you shortly.