LRL Hydraulic Dock Lift
Ideal for parcel delivery docks
Provides hand truck access to yard
Split lip fits variety of truck sizes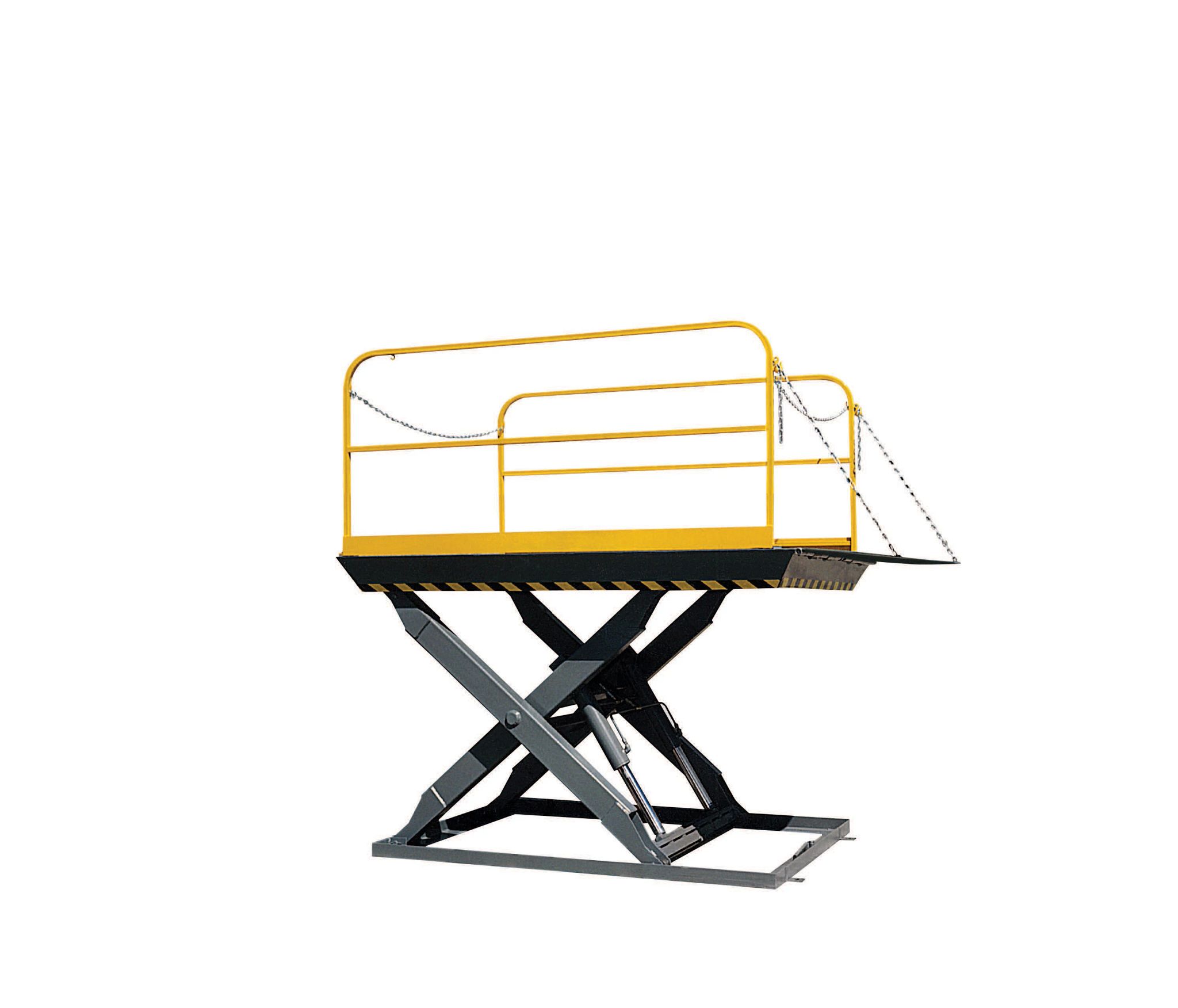 The LRL Hydraulic Loading Dock Lift by Rite-Hite is designed to provide a safer workplace for workers in shipping and receiving dock areas. Operated by a pendant control station, the LRL helps provide safe and secure access from dock to truck and yard access for hand trucks.
Benefits
The Rite-Hite LRL is an easy to operate mix of hydraulic loading dock scissor lift operation and manual lift lip positioning. This dock lift is ideal for facilities such as traditional shipping and receiving that use hand truck material transferring applications for truck heights coming in below dock. Operating features include:
Twin Hydraulic Cylinders allow for efficient service to standard and below truck bed heights.
Constant Contact Push-Button Activation allows operation by a single dock attendant for simpler and safer functionality.
Dock Lift Lip is manually lowered by chain with the option to lay either the full lip into the trailer bed or one of the dual lips for smaller truck sizes.
The LRL scissor lift design offers faster and easier installation, a variety of safety features and versatile loading / unloading through unique structural integrity resulting in increased stability.
Factory Complete Units are shipped directly from the factory and provide for fast, economical installation as no additional assembly is required at the facility.
Extra Wide Base Frame helps provide superior stability with high tensile structural tube scissor legs; allowing for increased side-loading capacity.
Standard Handrails are installed to the left and righthand side of the leveler for improved employee safety. In addition, the dock lift is equipped with 8-foot tapered toe guards on all sides.
Rite-Hite warranties are backed by a vast network of representatives and exclusive leading planned maintenance programs, helping to ensure that products perform to their full potential.
12-Month Limited Money-Back Guarantee of Customer Satisfaction.
1-Year Parts & Labor.
Gallery
LRL: Manual Lip Operation
LRL: Lowered into Pit - Deck View
LRL: Raised - Scissor View
Need more info?
Fill out the form below and one of our reps will reach out to you.
improving industrial safety, security and productivity worldwide THROUGH QUALITY AND INNOVATION

WANT MORE INFORMATION?
Fill out the form below and one of our reps will reach out to you.
Thank you for filling in the form.
Someone from our team will be in touch with you shortly.