Raptor Dock Door
Durable, high-density material
Making the tough choice easy.
Raptor rubber doors can be outfitted at any location in your warehouse and can withstand weather elements making your warehouse safe and durable to facility traffic.
The Raptor Dock door is a rugged industrial loading dock door from Rite-Hite's high performance line of doors. They are built to be safe, reliable and engineered for the harshest environments. The durable rubber curtain has a soft bottom edge and re-feed so if it is impacted, your personnel and product remain safe.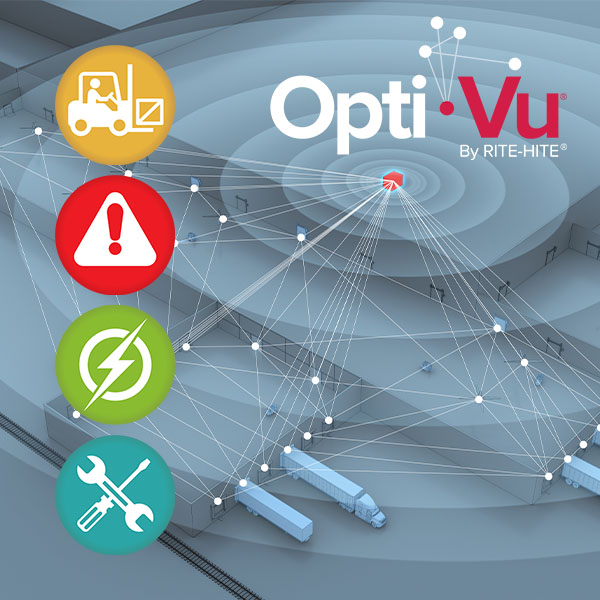 Opti-Vu IIoT Platform
Improve productivity, proactively increase safety, control energy consumption and enhance asset management with the interactive tool that allows you to make data-informed decisions for your facility.
Learn More
Benefits
Operating speeds of 12" (.3048 m/sec) depending on door size.
After an accidental impact, the Raptor Pro rubber door re-feeds itself on the fly without human intervention, keeping your door closed and downtime to a minimum.
Durable design - A thicker curtain with an impactable design available that fits almost any opening with
fewer costly building modifications.
Standard 25k cycle counterbalance spring
Drive System - 3 versions available: Operator Ready, Chain Hoist 5:1 or Jackshaft Operator - Micanan (includes chain hoist).
Curtain retention - Standard 20 psf static wind load which is equivalent up to a 115 mph wind load.

The loading dock is a critical access zone. Door sensors ensure that workflow remains steady. We offer radar-based motion detectors as well as laser and infrared-based sensors for automation and safety. Ask your rep about pairing a door sensor with the Raptor Dock door.
Gallery
Raptor Dock Door -1/4" SBR Black Rubber Curtain
Raptor Dock Door - 1/4" SBR Black Rubber Curtain and Dok-Guardian Safety Barrier
Need more info?
Fill out the form below and one of our reps will reach out to you.
improving industrial safety, security and productivity worldwide THROUGH QUALITY AND INNOVATION

WANT MORE INFORMATION?
Fill out the form below and one of our reps will reach out to you.
Thank you for filling in the form.
Someone from our team will be in touch with you shortly.