Dock Management and Communication Software
Reduce driver wait times & prevent miscommunication
Reduce detention charges year-over-year
Increase daily truck volume
Dock & Yard Management Software
Our loading dock and yard management software offers a secure, browser-based software system with an intuitive loading dock dashboard that brings clarity and order to your supply chain operation.
It eliminates the noise, clutter and confusion of paper-based, two-way radio processes so you can manage trailer assignments, monitor dwell times, and help keep docks fully utilized.


All-In-One Loading Dock Communication & Management Solution
Combine dock and yard management and communication systems for full visibility of your processes and complete data on your Rite-Hite smart equipment.
Supervisors can view real-time dock status and manage the loading dock and yard at once through automated dashboards.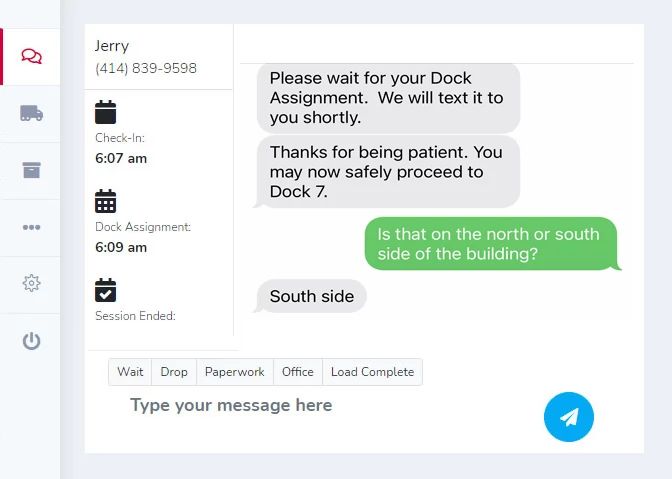 Dock Communication Software
Enhance carrier communications and help facilities maintain social distancing and contactless protocols.
This logistics sms messaging system eliminates manual check-in and assignment processes, reduces driver frustration, and improves trailer throughput.
There's no app or download requirements and it's as easy as sending a text message to the dock attendant.

Software Solutions
Are you manually checking and assigning docks?
Are carriers consistently waiting in their cab to be assigned a spot to begin loading or unloading?
Streamline the conversation between shippers, carriers, and dock management staff by eliminating spreadsheets and implementing a check-in and load process. This results in more trailers moving in and out of a facility. Rite-Hite's dock assignment communication software utilizes a sms messaging system that allows drivers to communicate with staff in real-time; further reducing confusion upon check-in at the loading dock.
Now, you can assign carriers to docks without the hassle of manual dock checks and without the carrier ever leaving their cab.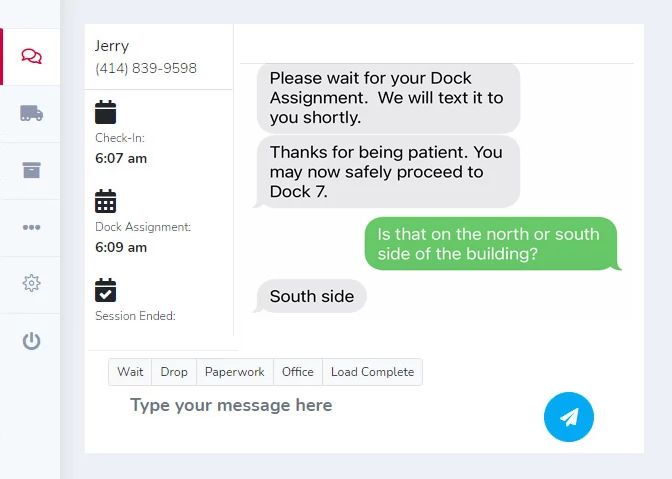 Cloud-based with no downloading or app requirements.
Implement a contactless electronic check-in process - ideal for safe social distancing protocols.
Eliminate the need to leave the truck cab or shipping office to interact.
Two-Way communication for dock assignment.
With a few texts, carriers can opt in and receive real-time communication from the shipping and receiving office on dock assignment and load complete tasks.
Check-in queue to manage multiple carriers and conversations at once.
Dock dashboard shows all assigned and available dock positions.
Do you have limited visibility into the loading dock activity and status?
Is communication between dock attendants and yard jockeys an ongoing challenge?
Tired of spreadsheets that are never quite up to date, stacks of paper to sift through and 2-way radio chatter?
Rite-Hite's loading dock and yard management software is a secure, browser-based system with an intuitive dashboard that helps bring clarity to your operation and gives all team members visibility to trailer location, status and activity. Our dock management software eliminates manual processes and provides visual tools for managing carrier appointments, monitoring dwell times and keeping docks fully utilized and productive.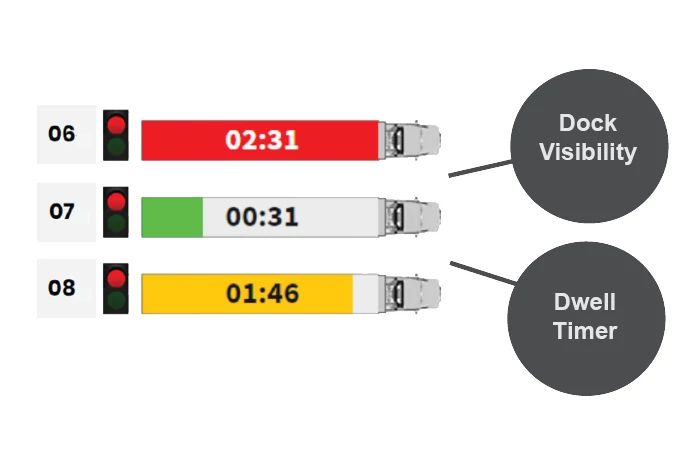 View the status of each dock position at-a-glance.
Speed up your daily operation and monitor dwell times.
Manage several appointments at once and keep docks utilized.
Identify which carrier is at each dock position.
Record total truck detentions, carriers that have passed their allocated time, and detention fees.
Make informed decisions to reduce your overall expenses, reallocate your workforce, and improve efficiencies at the loading dock and yard.
What can smart loading dock equipment do for you?
Rite-Hite's smart equipment can provide real-time dock status of all loading dock activities. By combining the loading dock management and communication software solution with Rite-Hite's smart equipment, you're ensuring that your facility is prepared for the future. Not only are you collecting insights from your equipment and processes, you are also making your loading dock and yard operations more efficient.
View and manage your loading dock status through real-time dashboards.
Rite-Hite's smart equipment data analytics helps identify safety incidents.
Establish, track and optimize loading dock productivity, efficiency and utilization targets.
Compare efficiencies and utilization against any time period to help identify areas of improvement around the loading dock.
Receive trending safety and productivity alerts and review corrective actions/next steps.
Robust reporting to review real-time and historical data.
Gallery
Synchronized timing and communication across all stakeholders
Appointments Manager - Robust worksheet of all inbound and outbound daily appointments with auto refreshed information to communicate changes in real-time to the logistics team
Driver Check-In Queue from scheduled appointments
Driver Check-In Screen with load details
Load Activity Queue – Inbounds/Outbounds
Load Activity Queue – Assign Available Dock
Load Activity Queue – Check-Out
Load Complete Check-Out List
Yard Manager - Easily view available or assigned yard locations on one graphical screen
Need more info?
Fill out the form below and one of our reps will reach out to you.
improving industrial safety, security and productivity worldwide THROUGH QUALITY AND INNOVATION

WANT MORE INFORMATION?
Fill out the form below and one of our reps will reach out to you.
Thank you for filling in the form.
Someone from our team will be in touch with you shortly.