Smart Data and Analytics
Discover new opportunities
Develop new business processes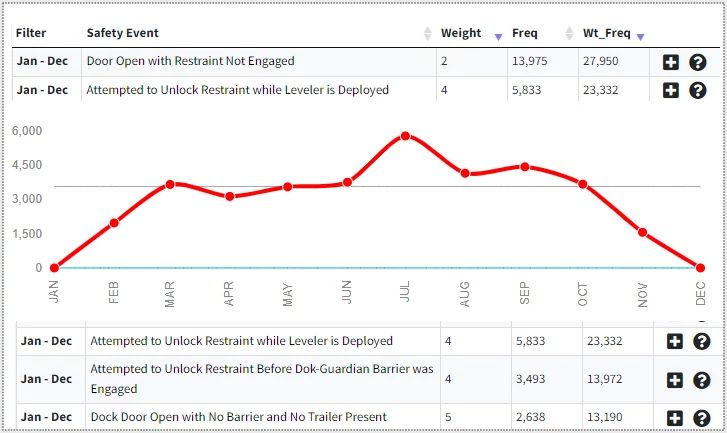 Intelligent Data with Smart Equipment
With Rite-Hite's data collection capabilities, you'll be more informed on how to improve safety procedures, productivity, and energy consumption.
Review dashboards that collect and display performance of dock and warehouse equipment in real-time.
Access analytic reports that compare current with historical performance, influencing next steps.
Configure your data the way that makes the most sense for your business.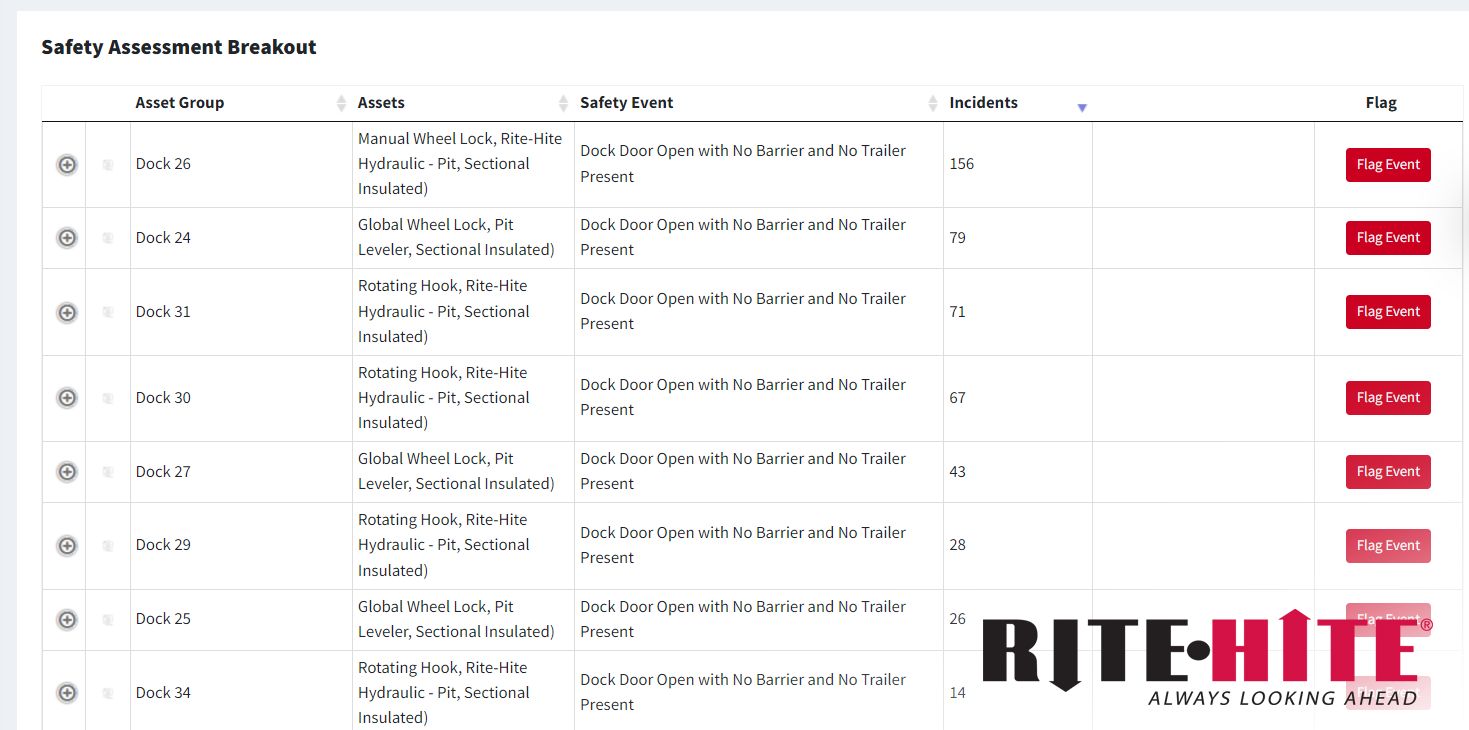 Event Monitoring with Smart Equipment
More than just sensors and data, Rite-Hite's smart equipment enables automated monitoring of events throughout the day. That means you can focus on activities that directly impact your facility, your job, and your people.
Track and identify ways to boost efficiencies as they occur.
Review a comprehensive report of safety and energy trends that compares current use to past use.
Enhance visibility into near misses and identify leading indicators.
Opti-Vu Software Solutions
Are you taking advantage of data and technology to modernize your loading dock?
Loading dock analytics can help improve staffing, scheduling, and overall dock efficiency and productivity. For example, when a trailer is sitting at a dock for a long period of time the impact is felt in the subsequent processes. It can also lead to an overflow of goods in the staging area. In addition, loading docks are filled with potential danger, so proper safety procedures must be in place.
Monitor real-time loading dock status when using Rite-Hite's smart loading dock equipment.
Leverage loading dock analytics with current and historical utilization data.
Establish, track and optimize productivity and utilization targets through reporting and dashboards.
Compare data and utilization against any period of time to help identify areas of improvement.
Receive trending productivity alerts and review corrective actions/next steps.
Are you dealing with near misses or unsafe events at your facility?
Warehouse safety and efficiency go hand-in-hand. Rite-Hite's safety data and analytics dashboard allows professionals to place a higher priority on specific safety events and improve warehouse safety best practices.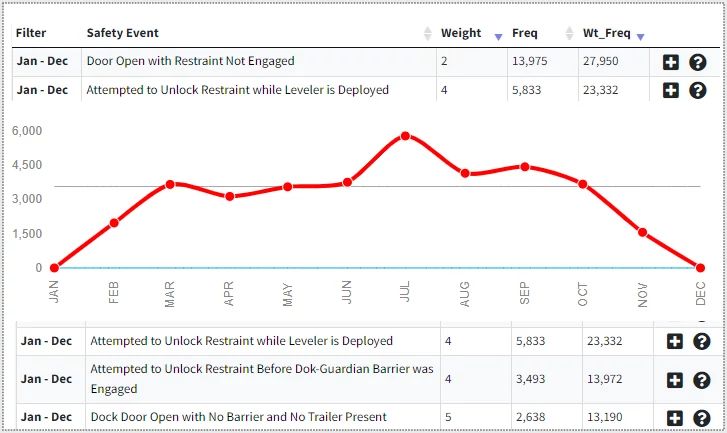 Study and understand safety challenges, frequency trends and their root causes.
Manage prioritized safety-related events, identify frequency, and determine appropriate corrective action.
Evaluate intersection trends/unsafe events to help determine directional awareness and increase warehouse pedestrian safety measures.
Receive trending safety alerts for immediate/real-time action.
Are your warehouse or loading dock doors leaking energy?
One of the greatest sources of energy loss for heated or refrigerated warehouse spaces is air infiltration through open doors or gaps around loading dock doors during loading and unloading operations.
Compare and diagnose energy and door usage across multiple data points, identify root causes, and take corrective action.
View recommendations based on specific energy-related events to help improve equipment usage and reduce energy loss.
Receive trending energy alerts for immediate/real-time action.
Monitor energy and door usage to increase lifetime value.
What can smart loading dock equipment do for you?
Rite-Hite's smart equipment can provide real-time dock status of all loading dock activities. By combining the loading dock management and communication software solution with Rite-Hite's smart equipment, you're ensuring that your facility is prepared for the future. Not only are you collecting insights from your equipment and processes, you are also making your loading dock and yard operations more efficient.
View and manage your loading dock status through real-time dashboards.
Rite-Hite's smart equipment data analytics helps identify safety incidents.
Establish, track and optimize loading dock productivity, efficiency and utilization targets.
Compare efficiencies and utilization against any time period to help identify areas of improvement around the loading dock.
Receive trending safety and productivity alerts and review corrective actions/next steps.
Robust reporting to review real-time and historical data.
Gallery
Loading Dock Utilization Dashboard - Individual Dock Data
Loading Dock Safety Trends Graph - Yearly
Loading Dock Safety Events
Loading Dock Safety Assessment Tool - Month
Loading Dock Safety Assessment Tool - Year
Energy Analytics - Month over Month Comparison
Freezer Doors Data - View Filtered by Month
Need more info?
Fill out the form below and one of our reps will reach out to you.
improving industrial safety, security and productivity worldwide THROUGH QUALITY AND INNOVATION

WANT MORE INFORMATION?
Fill out the form below and one of our reps will reach out to you.
Thank you for filling in the form.
Someone from our team will be in touch with you shortly.