RHH-4000 Hydraulic
Ideal for conventional operations
Constant contact controls
Smooth Transition Dok System®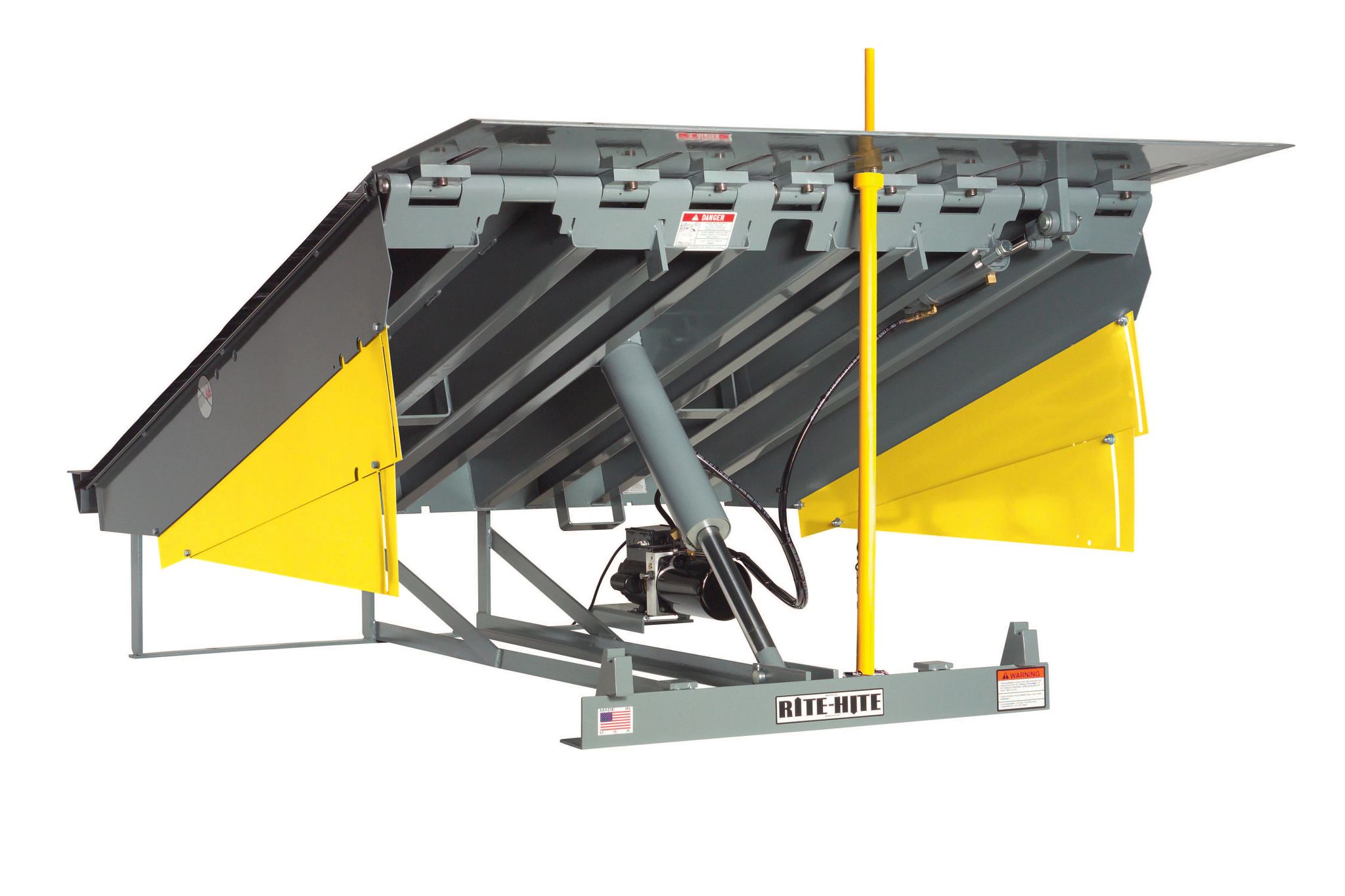 The RHH-4000 Hydraulic Dock Leveler offers safety and reliability with the smoothest transitions in the industry.
Many forklift operators travel across conventional dock levelers more than 100,000 times each year. With each pass they experience an unpleasant jarring effect created by the bumps and gaps that exist in outdated leveler designs – so does their equipment and the product being transported. Also known as dock shock or whole body vibration, these vibrations can lead to chronic back and neck injuries, product spills, and equipment repair costs.

These conditions can be reduced or eliminated with a Smooth Transition Dok System™ design – all of which are ANSI MH30.1 tested and certified.
Learn more about Dock Shock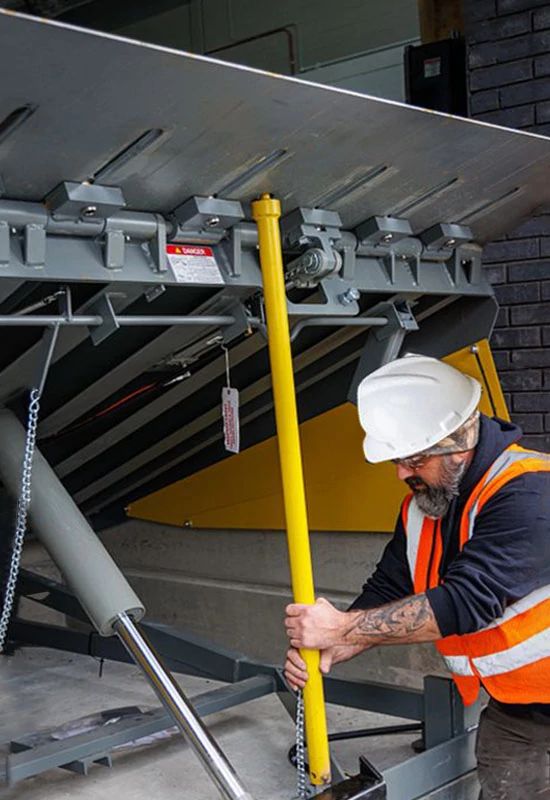 Safe-T-Strut
Rite-Hite's Safe-T-Strut™ system offers a central through-the lip-design that solidly supports both the leveler and lip through the entire operating range, helping to prevent dock leveler collapse during maintenance and helping to protect personnel underneath. It is certified to withstand forklift impacts up to 4 mph and helps to comply with OSHA lockout/tagout regulations.
Learn More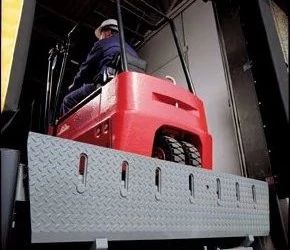 Safe-T-Lip
Upgrade traditional leveler lips to Rite-Hite's Safe-T-Lip® 5" or 7" barrier to help prevent vacant drop off. Its slotted lip design safely positions the barrier out of the way for unobstructed end-load access.
Learn More
Opti-Vu IIoT Platform
Improve productivity, proactively increase safety, control energy consumption and enhance asset management with the interactive tool that allows you to make data-informed decisions for your facility.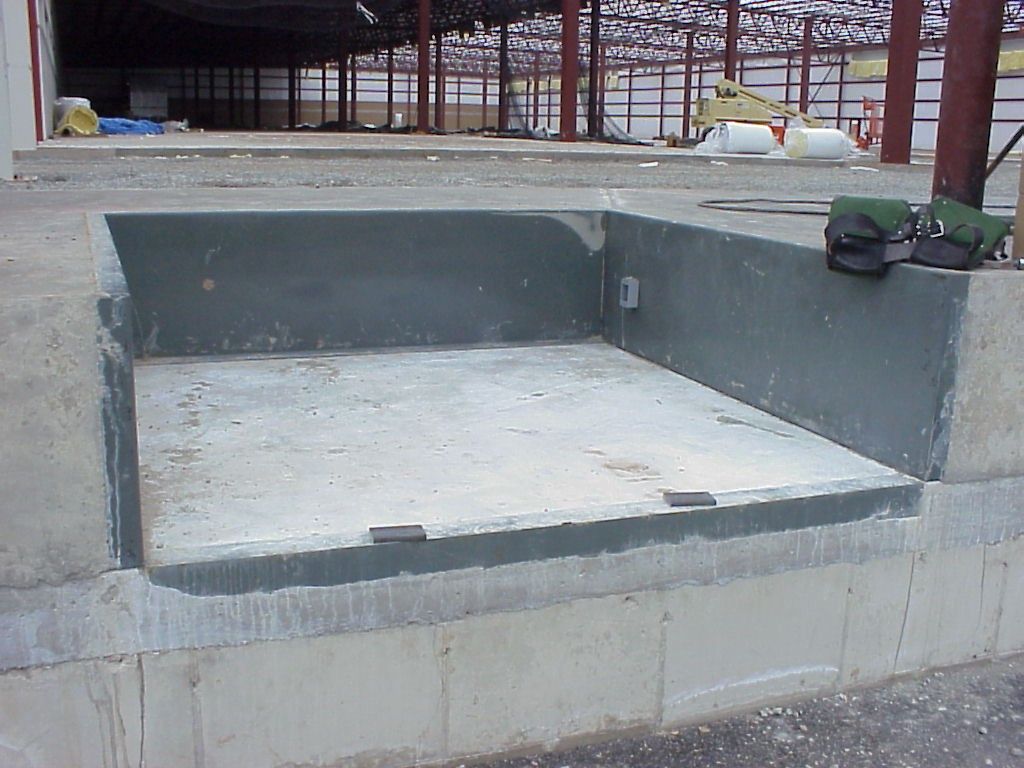 DokBox
The Dok-Box™ predesigned dock leveler pit forming kit provides a more efficient, simpler method for pouring pits than conventional methods.

Learn More
Benefits
Unique structural engineering stands firm under extreme warehouse demands to lower repair and maintenance costs, while increasing product lifespan.
Formed front header (connection between deck and leveler lip) completes the four-sided rectangular box construction and includes interlocking and welded stringers to create a stronger bond, increase overall strength and help limit lifetime maintenance downtime issues.
Ownership costs over the lifetime of a Hydraulic dock leveler are significantly lower; compared with a mechanical leveler's maintenance costs, which are on average 6 times higher than that of a hydraulic leveler.
Certified to meet and exceed ANSI MH30.1 performance testing standards.
Help cut down facility costs by increasing productivity through effortless push button operation, easy clean frame, and infinite lip control, and reducing energy loss with an under-leveler seal and dock door shelter for a complete four-sided seal.
Push Button Operation helps increase productivity by decreasing ergonomic stress on personnel and increasing the overall ease of use.
Infinite Lip Control (recommended) helps reduce operating time and amplifies safety by allowing the operator to extend the lip or stop the platform at any time during leveler travel.
Easy Clean Frame helps reduce time spent on clean-up through easier removal of dirt and debris.
Biodegradable Fluid is environmentally friendly and outperforms traditional industrial-grade fluid.
PitMaster II™ under-leveler seal available option helps prevent energy loss, improve dock cleanliness, and increase employee comfort.
Maintenance Pendant Receptacle (optional) helps minimize danger and reduce waste while promoting productivity while maintaining hydraulic dock levelers. The receptacle helps with labor shortages by only requiring one technician instead of two during maintenance.
The importance of safety at the loading dock cannot be understated. From the loading / unloading process to planned maintenance, there are many places to prioritize for safety.
Self-Flexing Deck utilizes L-beam stringers to increase deck strength and allow the leveler deck to flex up to 4" under its own weight. This structural design helps the leveler maintain constant contact with the trailer bed at all times; even after the weight of the forklift has been removed from the deck.
Safe-T-Strut

™

gives enhanced safety during maintenance with a centrally located, through-the-lip design which keeps the strut in place throughout the entire operating range of the leveler; withstanding an accidental impact of a 10,000 lb fork truck at 4 mph.
Visibility from inside the building indicates to all that maintenance is being performed and helps prevent accidental operation, keeping personnel safe during scheduled maintenance.
Safe-T-Lip® helps provide vacant drop off protection, while its slotted-lip design safely positions the barrier out of the way for unobstructed end-load access.
Non-Adjustable Velocity Fuse helps stop rapid leveler descent within 3" (76 mm) with a heavy load on the platform; providing ultimate free-fall protection.
First-time back injuries can cost a company up to $10,000, with chronic injuries reaching $300,000. Help reduce personnel injury expenses by choosing a leveler with a full Smooth Transition Dok System®.
Two-Point Crown Control reinforces the front hinge (between the leveler deck and lip) in two places to help remove the "speed bump" felt with traditional leveler that have increased crown reinforcement.
Constant Radius Rear Hinge gives a consistent 1/3" space between the warehouse floor and leveler deck; significantly reducing the gap that causes the jarring pain felt when crossing.
Extended Lip Chamfer comes standard with an extended length of 3" (compared with traditional leveler's 1/3") that provides a more gradual transition from lip to trailer bed floor; helping to diminish bodily impact.
Beam Construction includes two extra L-beams under the leveler deck which provide increased strength and superior flexibility, allowing the leveler to flex up to 4" under its own weight.
Up to 20-Year Money Back Warranty Based on the Dock Leveler Investment Guide
5-Year Parts and 1-Year Labor.
12-Month Limited Money-Back Guarantee of Customer Satisfaction
Gallery
RHH-4000: Two-Point Crown Control
RHH-4000 Constant Radius Rear Hinge
RHH-4000 Under Leveler Beams & Safe-T-Strut
RHH-4000: Unparalleled End-Load Access
RHH-4000: Multiple Dock Postions
RHH-4000: Stored w/ Safe-T-Lip & Lamenant Bumpers
Need more info?
Fill out the form below and one of our reps will reach out to you.
improving industrial safety, security and productivity worldwide THROUGH QUALITY AND INNOVATION

WANT MORE INFORMATION?
Fill out the form below and one of our reps will reach out to you.
Thank you for filling in the form.
Someone from our team will be in touch with you shortly.