Stabilizing Trailer Restraints
Smooth transition dok system
How STR-4200 Helps Prevent Trailer Movement
The STR-4200 Dok-Lok Vehicle Restraint, part of the Smooth Transition Dok System™, stabilizes trailers to help prevent both horizontal and vertical movement. By securely engaging the trailer's rear impact guard while also supporting the rear of the trailer, the STR-4200 offers the ultimate level of safety. Watch video to learn more.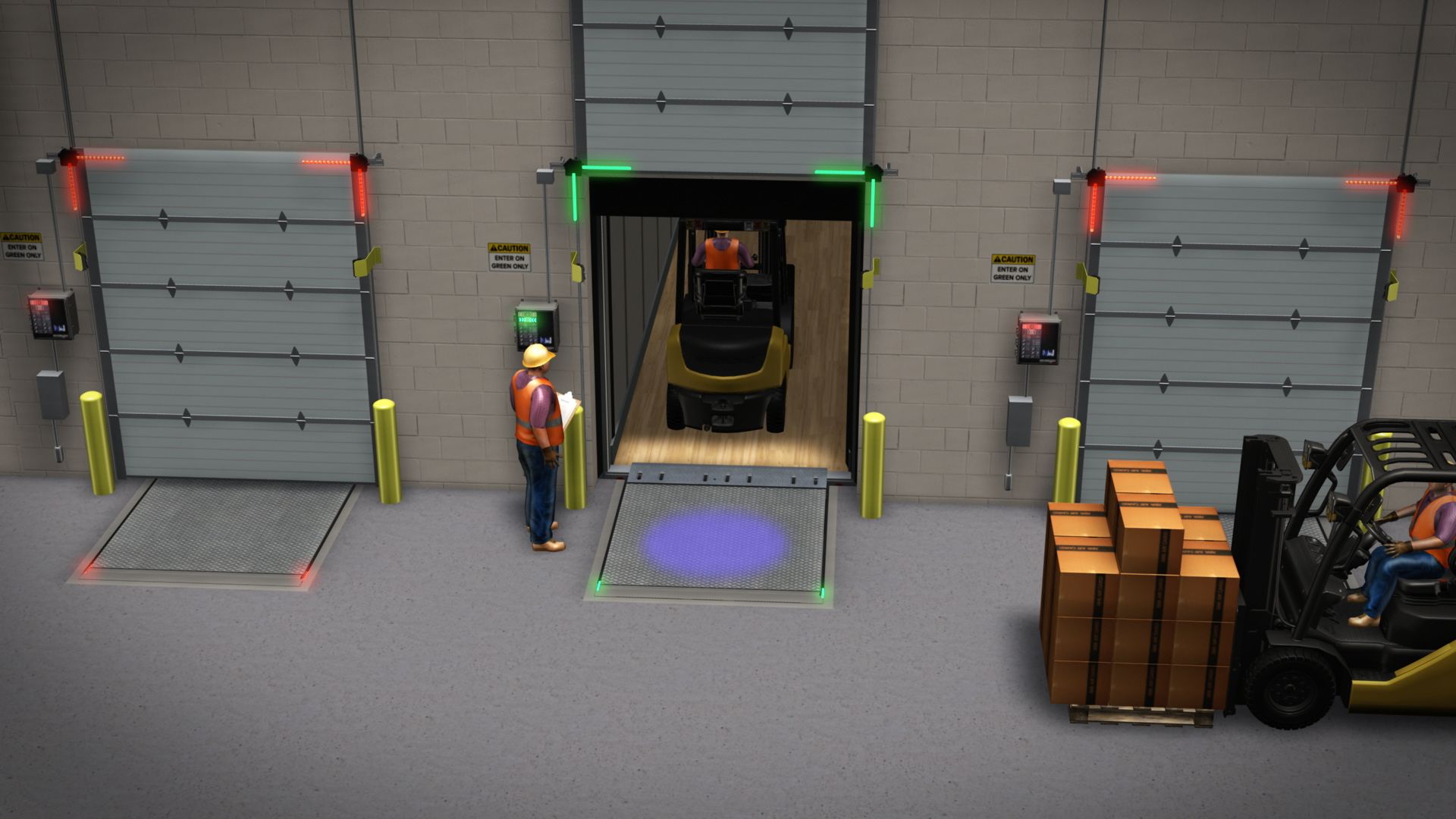 Rite-Vu™ Hazard Recognition and Communication System
Interior/exterior LED Rite-Vu™ light communication system, includes Approach-Vu™, Pedestrian-Vu™ , Corner-Vu™, Leveler-Vu™ and Lok-Vu™. Each component can be ordered with the Lok® or added at any time to optimize loading dock safety.
Learn More
Opti-Vu IIoT Platform
Improve productivity, proactively increase safety, control energy consumption and enhance asset management with the interactive tool that allows you to make data-informed decisions for your facility.
Benefits
Hydraulic cylinders help stabilize the trailer to address trailer drop while helping to ensure smooth transition between loading dock and trailer.
Helps address horizontal and vertical movement during loading and unloading.
Smooth Transition design minimizes jolts to forklift operators reducing the occurrence of back related injuries.
Minimizes product damage and wear and tear on other dock equipment components.
Greatest reach creating a two-point entrapment on RIG
Anti-rotation design adds an additional layer of safety by securing intermodal containers or trailers with rear impact guard obstructions
Automatic re-fire if hook is not properly engaged
Hardened steel carriage is designed for impact, helps resist damage from backing trailers and stores above ground away from snow, ice, debris and standing water.
IP66 rated motor helps prevent dust and water infiltration.
Military grade corrosion resistant finish provides all-weather performance.
Need more info?
Fill out the form below and one of our reps will reach out to you.
improving industrial safety, security and productivity worldwide THROUGH QUALITY AND INNOVATION

WANT MORE INFORMATION?
Fill out the form below and one of our reps will reach out to you.
Thank you for filling in the form.
Someone from our team will be in touch with you shortly.