Separate and Define
SpanGuard® is a retractable mesh barrier system designed to separate and define work areas, walkways and other areas that might require drop-off protection.
Separation Means Protection in Your Facility
Rite-Hite's In-Plant Safety Barriers minimize workplace accidents with clearly defined separation zones that still allow access when necessary.
Benefits
SpanGuard is a lightweight, highly visible barrier that helps define and separate workspaces and can restrict access to hazardous areas like loading docks and walkways. It can be easily removed and stored or relocated should the plant layout change.
Stops up to 5000 lbs. (2273 kg) with minimal deflection. Consult SpanGuard BLAST Impact Rating Chart for complete weight and speed ratings.
36" (915 mm) curtain height
48" (1220 mm) off floor
Available in 30' (9150 mm) and 60' (18300 mm) clear span lengths
Four anchors per post
Clean, aesthetic appearance
Flexible design allows for multiple configurations and easy accessibility by retracting the mesh curtain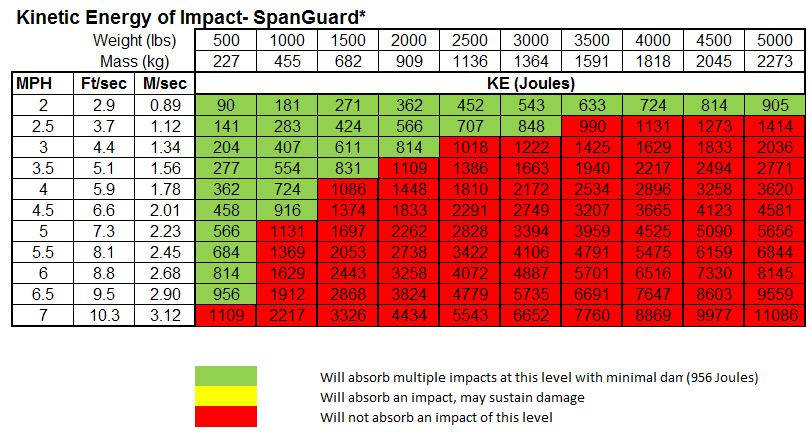 *Consult The Science of Safety white paper for a complete explanation of the information contained within this chart.
Ideal for defining and separating:
Workspaces
Walkways
Other indoor or outdoor areas that need drop-off protection, such as rail or finger docks
Gallery
SpanGuard Safety Barrier .
Need more info?
Fill out the form below and one of our reps will reach out to you.
improving industrial safety, security and productivity worldwide THROUGH QUALITY AND INNOVATION

WANT MORE INFORMATION?
Fill out the form below and one of our reps will reach out to you.
Thank you for filling in the form.
Someone from our team will be in touch with you shortly.