Safe-T-Signal
4/3/2-way traffic detection
Adjustable detection zone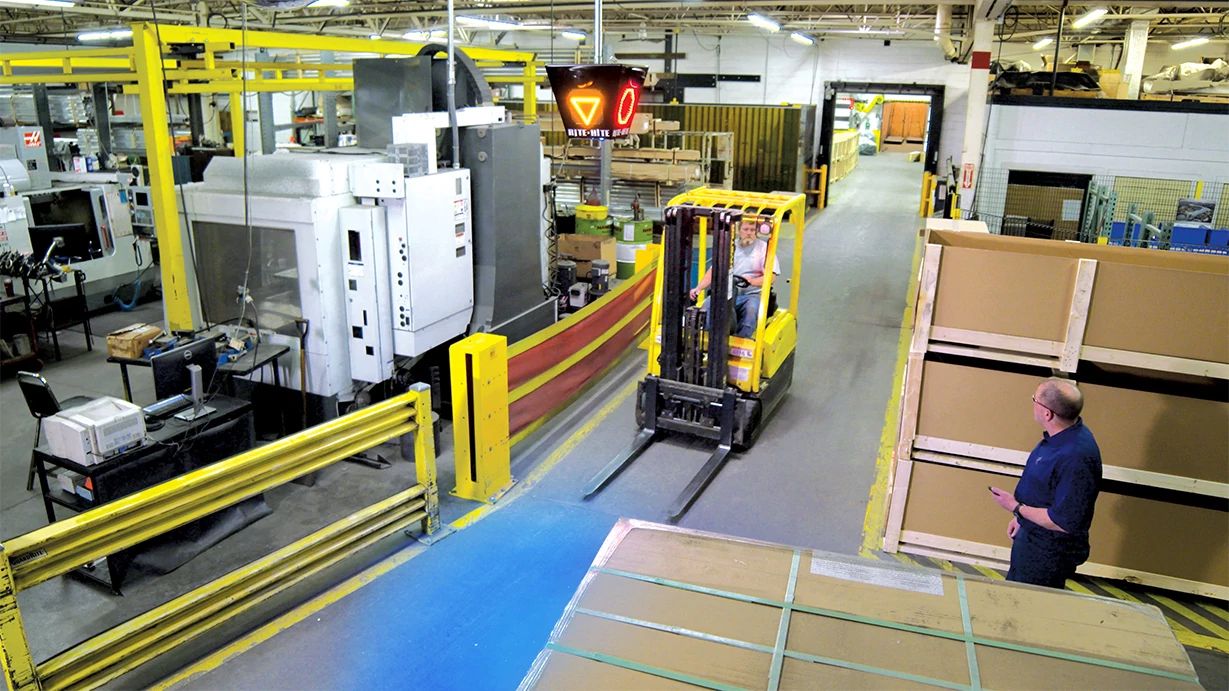 The award-winning Safe-T-Signal® Warehouse Traffic Light detects traffic from all directions and communicates with high-visibility traffic control LED symbols to the oncoming traffic.
Safe-T-Signal's adjustable range microwave sensors detect foot and vehicle traffic and will safety direct traffic according to what they see. This innovative warehouse intersection traffic sensor is capable of directing two-, three-, and even four-way traffic, so there's a good chance that it will easily adapt to any intersection in your facility.
Opti-Vu IIoT Platform
Improve productivity, proactively increase safety, control energy consumption and enhance asset management with the interactive tool that allows you to make data-informed decisions for your facility.
Benefits
The Safe-T-Signal helps prevent accidents where people and material handling equipment share the same space in your facility. If traffic is detected approaching from one direction, then an amber LED yield signal is presented to the other directions. When traffic is detected from two or more directions then a red LED stop signal will be presented to the approaching traffic and a blue LED light will illuminate on the floor; directions with no detected traffic will be presented with an amber LED signal.
Unidirectional microwave sensors differentiate approaching traffic
Designed for four-way, three-way and two-way intersections
Adjustable detection zone and sensitivity
Optional remote signals and sensors are available
Traffic control signals communicate using yellow LED yield sign and red LED stop sign
When two or more red LED stop signs appear, a blue (or red) LED light is also projected onto the floor
UL Listed 100-240VAC 50/60Hz input, Class 2 24V output power supply
Ceiling mounted with standard ¾" (19 mm) rigid conduit
Rugged steel construction
Optimal mounting height from 10' to 16' (3050 mm to 4875 mm)
Save energy with low power consumption (<10W standby, <50W maximum)
Adjustable light brightness
Complements a facility's existing best safety practices
Indoor use only, -40°F to 140°F (-40°C to 60°C) where forklifts and/or pedestrians are in close proximity
Need more info?
Fill out the form below and one of our reps will reach out to you.
improving industrial safety, security and productivity worldwide THROUGH QUALITY AND INNOVATION

WANT MORE INFORMATION?
Fill out the form below and one of our reps will reach out to you.
Thank you for filling in the form.
Someone from our team will be in touch with you shortly.