The Revolution Fan
Revolution Fans are available in 5 diameters: 2440 mm, 3660 mm, 4880 mm, 6100 mm and 7320 mm. Depending on the diameter and selected operating speed (from 9-175 r/min), they can move air volumes up to 713585 m³/h.
The recommended installation heights range from 4575 mm up to 24400 mm. The Revolution Fans moves air at body height up to 26 m from the center of the fan in all directions.
There is no building space too large or ceiling too high to benefit from the RiteHite Fans-Formula.
The unique construction and performance of the Revolution Fans can help to address several air movement challenges while saving money, protecting the environment and improving the work climate. All with a positive return on investment.
In addition, the Revolution Fan is designed for a very long lifetime expectancy.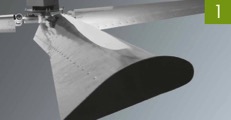 Visionary Blade Design:
Strong Propell-Aire™ custom light-weight aluminum blades with Vortex Tips.(picture 1).
Sophisticated blade design incorporates tilt, taper and twist to provide consistent maximum airflow across the entire blade length, ensuring a silent operation.
The upward blade tilt creates a conical airflow that lifts the air off the ground, creating a more comfortable environment at body height.
The uniform airflow eliminates dead air holes under the center of the fan.
Blade Finish: mill-finish standard, polished aluminium and custom colors are optional.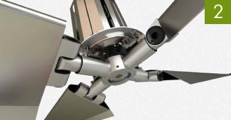 Sophisticated hub design:
Extruded, precision-milled aluminum hub and bolt.
Vibration-reducing material reduces stress to hub by 50% to 75%
Sophisticated rotationally-balanced hub to blade connection, a design with a 40-year track record in harsh conditions world-wide.
The blades are seated in a secure position on hub arm, locked with a bolt that is tightened to 271 Nm.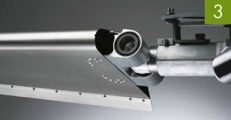 Safety Features:
Three-way motor-to-hub safety connection (picture 2 and 4):
Hub attaches to the motor with reverse threaded bolt and a tapered bushing.
Each blade arm is attached to the safety ring.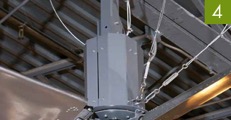 The beam clamp, drop tube, motor housing, stabilizing steel cables (4) and safety steel cables (2) offer the highest degree of operational safety and allow for easy installation in almost any building configuration (picture 4).
Designed with safety, for over 10 times the force and stress generated by the Revolution Fan.
improving industrial safety, security and productivity worldwide THROUGH QUALITY AND INNOVATION