Fan Accessories
Control your climate with XL3 Basis and XL3 Basis Eco.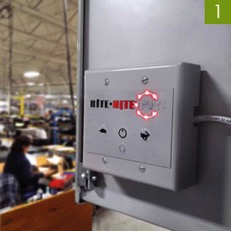 XL3 Basis membrane switches for easy operation of the XL3 Fans HV and SP. Functions include the adjustment of speed, selection of forward and reverse motion as well as a switch to turn the fan on or off. Fan speed is displayed with LED lights.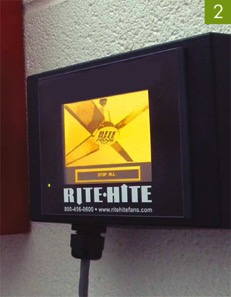 With XL3 Basis, up to 4 XL3 Fans HV or SP can be operated synchronized from one control station. In addition, for every XL3 HV or SP a control box with integrated frequency drive and a separate station for fan motor disconnect is provided.
XL3 Basis Eco
This intelligent control station allows you for optimum benefit of the RiteHite Fans- Formula (picture 2).
Up to 18 XL3 Fans in 3 separate target zones can be easily controlled from a central control station. There is no more need to visit each location individually, which may be great distances apart.
Time scheduled operation: For every day of the week you can schedule individual time profiles for the fans to operate or to shut down (picture 5). The performance for each XL3 Fan in the network can be individually adjusted.
With the time scheduled operation, the fan network can be started and stopped twice per day (ex. deactivation during lunch breaks).
Manual operation: The performance of each XL3 can be easily and individually adjusted from 1% to 100% using the touch screen (picture 3 and 4). Other settings are on, off and forward or reverse motion.
Automatic operation: The XL3 Basis Eco is capable of changing the fan operation based on the temperature and/or relative humidity in up to 3 separate target zones in your building (picture 6). As soon as the adjustable key values are reached the fans will start to operate, speeds will be increased or decreased, and the fans may be shut down (picture 7). Every 10 minutes the measured values are communicated to adjust the fan performance automatically.
improving industrial safety, security and productivity worldwide THROUGH QUALITY AND INNOVATION